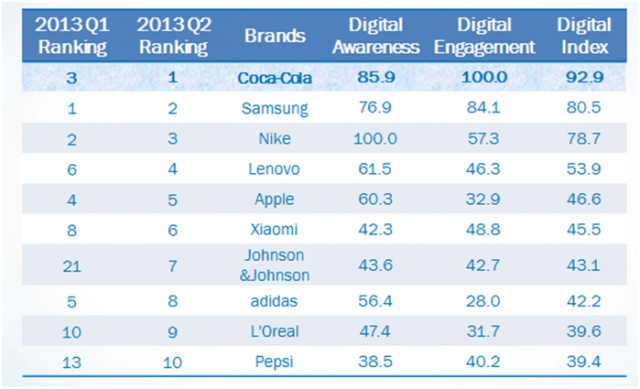 Led by a new online campaign based around sharing, Coca-Cola was the engaging brand online in China, according to an ongoing study by marketing consultancy, R3. Rounding out the top three were Samsung and Nike. "Coca-Cola have built continuous learning and tracking into their digital work, and are now starting to truly integrate offline and online elements," said Bella Teng, Senior Researcher at R3.
The fastest mover in terms of Digital Engagement this wave was pharma giant Johnson & Johnson, now ranked seventh overall, up from 21st. "JNJ celebrated "My First Mother's Day" on Sina Weibo for the first time, creating new levels of buzz and sharing – and increasing their audience by 50%," said MsTeng.
R3's research covers China's top ten cities every three months, with more than 40,000 respondents over the last six years. Respondents are aged 15-40 and are asked a battery of questions on brands, stars and media. "We are trying to look beyond Brand Recall and instead look to Brand Love – if a consumer has a strong engagement to a brand or media, there's a clearer linkage to purchase intent" she added.
A case in point is Nike and Coca-Cola online in China. While netizens are fast to recall Nike as a brand they recall seeing online, there's not as much engagement and depth as there is for Coca-Cola – who perform more consistently on both areas. "Coke have invested in a true 24-7 social team that is building fresh content that their target audience is sharing and getting involved with – they are a strong case study of what to do right with digital in China" added MsTeng.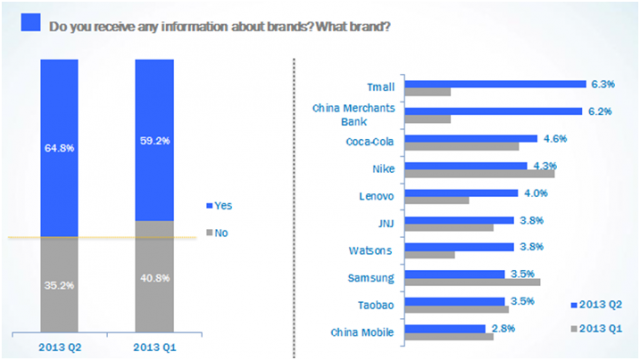 China Migrating to An E-Commerce Economy
The study also measures behaviour online including seeking information and purchase. Chinese consumers are making on average 8.2 purchases a month online, compared to 5.2 in the US and 4.3 in the UK.
"Chinese consumers want it now. Three of the top companies mentioned in the area of seeking online information are e-commerce related," added MsTeng.
This recent drive for e-commerce is now having a major impact on business models. Local sports companies including Li Ning and Anta are now closing on average nine stores a day, as consumers are deserting the high streets and moving to online locations. "Tmall emerged this wave as the number one place for information on brands – the best companies already have a strong Tmall presence, but those that don't will fall behind faster than they realize.