ABOUT SOCIAL40
Welcome to something truly unique, the first kind of its kind, and the start of an ongoing series – Social40 – celebrating 40 of the most creative, innovative and progressive social agencies from six continents. As independent consultants, we've been fortunate to be active observers of the change that has taken place over recent years – the massive emands on marketers to invest in and measure the power of social media – and the evolving agency landscape to service them.
SELECTION PROCESS
Selecting the Social40 was a systematic quantitative and qualitative internal process at R3 that utilised our own experience with clients such as Unilever, Coca-Cola, VW, McDonald's, Samsung, adidas, AB InBev, Walmart, Microsoft, Kimberly Clark and others – along with desk research, marketer studies and analyses. In the end, we considered over 100 social agencies against four basic criteria.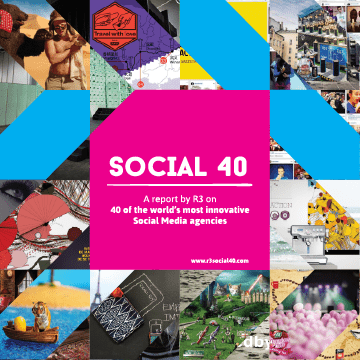 Please complete the form below to download an excerpt from the book.