R3's Agency Performance Tracking & Relationship Management services differ from most in-house or self-administered tools in that it focuses on the future, not the past – to ensure the right expectations can be set.
The benefits of Agency Performance Tracking
R3's Approach to Agency Performance Tracking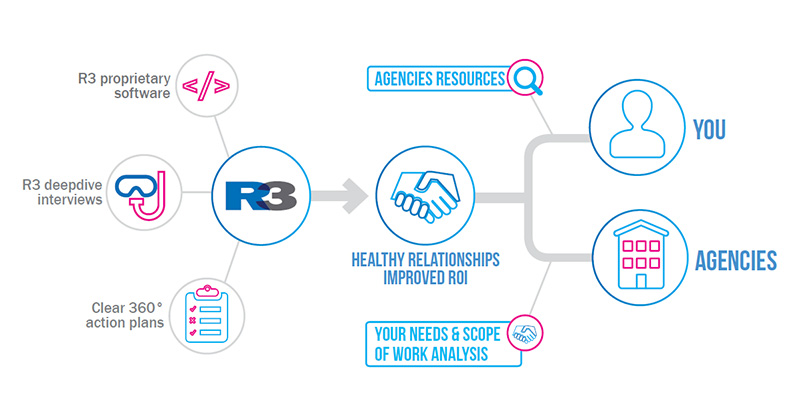 Online evaluation: We begin by understanding your needs and assessing previous evaluations to get a feel for where you stand. We then adapt our questionnaires, or use a format of your choosing, to host on our online platform.
Presentation & report: From the raw data amassed from the evaluations and interviews, we provide a detailed report with both quantitative and qualitative insights. Rather than apportioning blame, our presentation looks to pinpoint areas for improvement and what steps can be taken to move towards a better relationship.
Follow up actions: One big difference between our tool and other standard reviews are that follow-ups are provided to every individual who agreed to commit to action over the ensuing 30 days, 60 days, and so on. In short, we empower them to face the issue and take the action to reach the goal.
Client Agency Performance Evaluation (CAPE)
CAPE™ – R3's proprietary online Client Agency Performance Evaluation tool – is designed to provide complete feedback and diagnostics on the relationship. CAPE has already been extensively implemented with multinational and government marketers. Through this, we now have global benchmarks to compare relationships, usually supplemented with face-to-face consulting. We encourage a two-way CAPE process where agencies also receive the opportunity to evaluate the client and we closely monitor the Action Plan.