Return On Media
Media Effectiveness Audit
Analysis of your internal and agency processes with clear ideas to achieve best practice
R3's Media Effectiveness Audit service takes an in-depth look at current practices by your Media Agency, marketing team and Media Owners to effectively enhance overall media discipline. The goal is to optimize working processes and benchmark and improve media performance. R3 investigates what worked and what could be optimized to provide actionable steps in driving tangible improvement.
What Are The Benefits?
Enhanced Working Effectiveness between you and your media agencies.
Independent Benchmarks & Planning Metrics to measure the performance of your media agency.
Optimized Media Planning through best practice insights and analysis.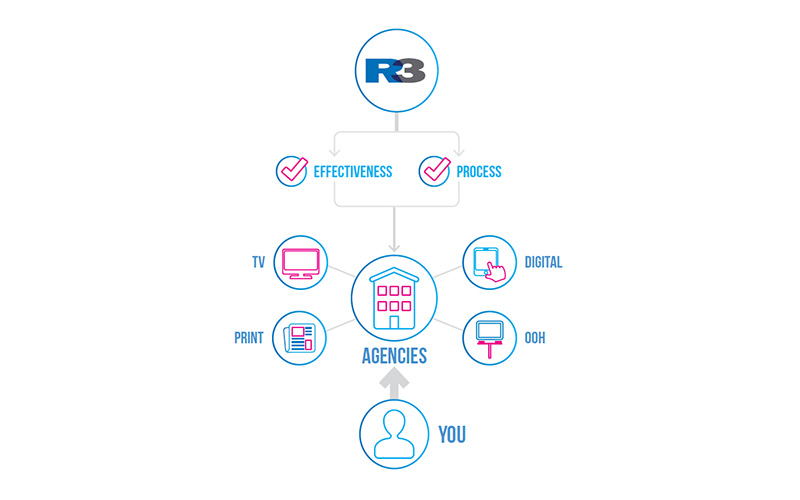 R3's Approach to Media Effectiveness Audits
Our analysis centers around 6 key factors to pinpoint areas for improvement in your current approach.
Client Brief – Does your brief set a clear challenge to the agency? Are there metrics put in place to drive maximum ROI?
Insights – Are consumer, media and brand insights strong enough to drive a differentiated strategy?
Strategic Planning – Has the communication plan brought the strategy to life? Are the touch points optimized?
Tactical Planning – Have the right goals been set in a specified time frame? Has a buying/optimization approach been implemented? Does the media mix enhance impact?
Post-Buy – Does the post-buy provide a detailed explanation and action plan? Is there room for better automation and reporting of post-buys?
Best Practice – What has worked so far and where is there room for improvement going forward?