Return On Agencies
Agency Remuneration
Agency fee negotiations and benchmarking to drive better performance
R3's Agency Remuneration services help marketers ensure that a sound compensation structure is in place. This means having a method of remuneration that aligns expectations through set Key Performance Indicators. Such a relationship requires periodic checks to make sure both parties remain aligned, and opportunity is provided to rectify any issues in a timely manner.
What Are The Benefits?
Improved Cost & Value of agency fees through expert analysis and assessment for fair value.
Clarity of Expectations by evaluating contracts and agreed scope of work.
Outstanding Agency Performance & Results driven by performance-based remuneration models and KPIs.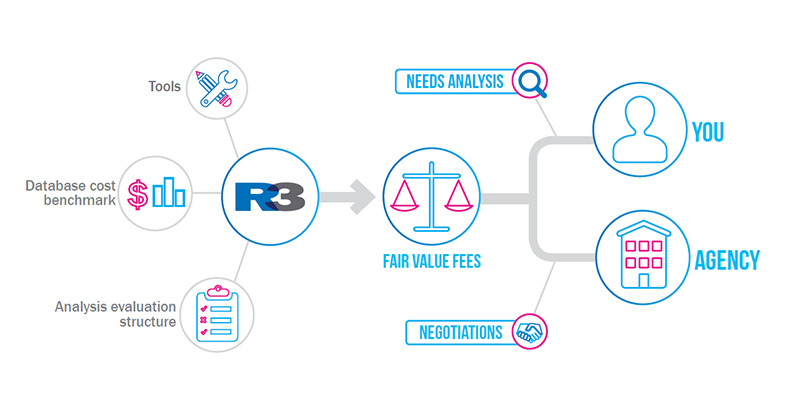 R3's Agency Remuneration Approach
In the remuneration review, we take an in-depth look at the fee negotiation process from five angles – scope index, resources, time allocation, overhead rate and fees. We then use the quarterly reconciliation process as a platform to share feedback and facilitate timely decisions on scope and fees.
Scope of Work Management: R3 believes that the foundation of any remuneration is developing a detailed scope of work. We help marketers co-create scope of work and remove redundancies and duplications.
Fee Benchmarking: R3 compares agency fees against each other, and against R3 benchmarks. We don't just review the fee and hours, but also mix in seniority and discipline and resource allocation. Our benchmarking pool is constantly updated and covers more than 300 agencies across 10 categories and 65 countries.
Contract Negotiations: R3 ensures that best practice contract clauses are in place with focus on transparency, programmatic, audit and data ownership.
Fee Reconciliation: R3 helps marketers track scope of work changes, and advises on how to offset differences to enable better planning of retainer and resources. Our reconciliation process goes beyond scope of work to also check on resource commitment and allocation.
Client Agency Remuneration Evaluation (CARE)
R3 has developed a proprietary software solution called CARE (Client Agency Remuneration Evaluation). Using CARE is easier and more efficient than using Excel. A client can simply upload an existing Scope of Work, and easily share it with R3 and the agency. Likewise, the agency can enter their proposal – and all versions are stored on the cloud – in a highly password-protected space.