According to the ninth wave of R3 and SCOPEN's AGENCY SCOPE Study, China's platform economy is reshaping agency partnerships. 81.7% of China's marketers interviewed for this study prefer to work with an ecosystem of specialized agencies, with only 15.6% currently working with a single agency model.
This preference for specialist partners is attributed to the importance of online platforms in revenue generation, with 68.8% of China marketers naming e-commerce as a key scope of their work and essential to sales conversion. In addition to shopping platforms like Taobao, TMall, and JD.com, social CRM and online-video platforms are also ranked high in importance.
"Marketers are becoming more pragmatic as China's digital marketing landscape becomes increasingly saturated," said Sabrina Li, Managing Director of R3 China. "Whereas innovation might be a good tactic to attract the attention of marketers, to win business, agencies need capability in data science and have the tools and content expertise to help brands maximize their investments on digital platforms."
"What China marketers want from their agencies is digital efficiency," said Cesar Vacchiano, Founding Partner and CEO of SCOPEN. "This means knowing what works on certain platforms, and how to do it in a cost-efficient manner. Marketers want tactically driven results."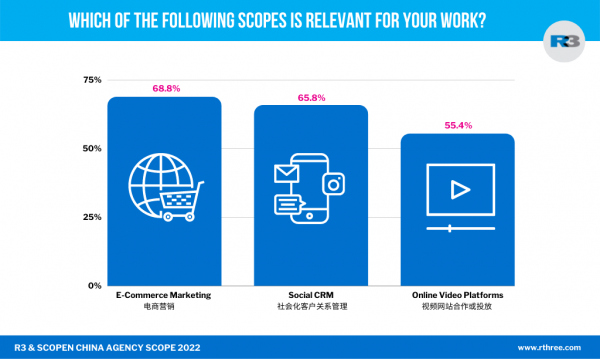 Specialist Agencies for a Complex Environment
The demand for specialist agencies correlates to the finding that the average brand in China works with 26 partner agencies, 30% over the global average. 35.5% of those agencies are likely to be digital platforms, while 15.2% work in the area of Field Marketing (CRM, promotion, activation, events).
"Any brand operating China will be aware of the local complexities and nuances that need to be understood to be successful," said Li. "The belief that there is no one agency that 'knows it all' is a reflection of how much expertise and specialist knowledge is required to get ahead."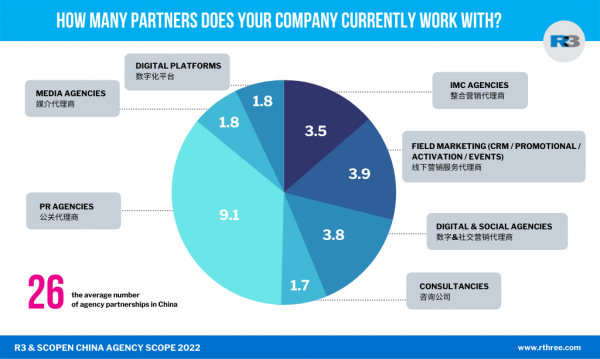 Marketers Benefit from Agency Competition
66.2% of marketers interviewed are satisfied with their current agency partnerships, making China one of the most demanding markets when it comes to agency satisfaction. In the AGENCY SCOPE benchmark, only India scored lower in agency satisfaction. More Chinese marketers (a 5.3% increase from the previous AGENCY SCOPE study in 2020) indicated they are considering changing their integrated marketing communications agency, with local agencies facing a higher likelihood of reviews than multinationals.
"Even though the use of NPS (Net Promoter Score) has increased in the last two years, competition between agencies has been aggressive," says Li. "This has provided marketers access to more added value (new services, specialities, alliances with other partners) which will benefit them in the long run."
Local Agency Growing Fast While Multinationals Still Dominate Agency Perception
Leo Burnett, Ogilvy and BBH rank in the top three when it comes to agency performance. Challenges with internal resourcing and processes mean that China marketers are looking to agencies to fill gaps in capability with data and measurement tools, and for external partners to help them anticipate and respond to trends. The need for dependable teams and reliable ways of working means that multinationals are more in favor when it comes to choosing integrated marketing partners.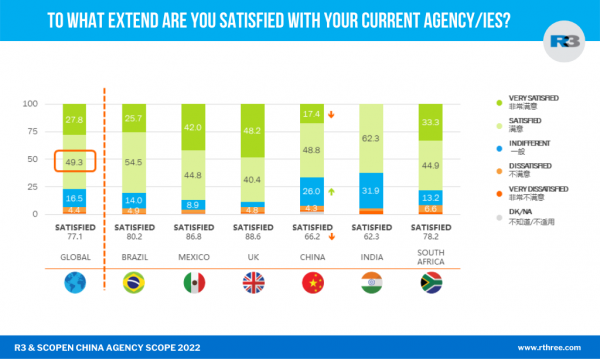 About China AGENCY SCOPE
AGENCY SCOPE is a biennial research on trends within the marketer-agency relationships and the perception and image of the agencies.
The primary value of AGENCY SCOPE is to provide subscribing agencies with first-hand information regarding the needs of their clients. The report gives them a unique tool to improve and provide new services as it covers the main findings and trends in the communications and marketing sector and more specifically, the perception and image of their agency in comparison to all other agencies Chinese marketers work with.
Our Universe of analysis is comprised of the highest-level decision-makers in marketing, communication (IMC, field marketing, digital & social) and, media agencies, from the largest and most important marketers in China. Professionals in each company had to be involved in and interact on an on-going basis in the decision-making process for selecting and approving their agencies' work. Each year, we gather globally opinions from our more than 2,500 marketer interviews.
AGENCY SCOPE China 2021/22 is the 9th edition of the study in the country, that is also conducted in other 11 markets around the World (Spain, Portugal, United Kingdom, Argentina, Brazil, Chile, Colombia, Mexico, South Africa, India and Singapore), and that enables us to include global benchmarks in some key indicators. In this edition, we interviewed professionals from 208 different companies in China, with over 890 client-agency relationships analyzed.
In-depth face-to-face interviews were conducted with senior Chinese marketing decision-makers from China's top marketing companies, providing comprehensive data and insights to help agency networks and marketers forecast and benchmark their businesses. The study is conducted every two years in China, making it the most robust independent tracking measure of Chinese agencies and their client relationships.