The ad industry's biggest names aren't spending quite as much on mergers and acquisitions this year as they were in 2016.
That's the top takeaway from international consultancy R3's latest report on the state of agency M&A for the first four months of 2017, a period during which the total value of related deals dropped more than 24 percent year over year.

"You have the same number of deals, but it's proving harder and harder to find big agencies," said R3 principal and co-founder Greg Paull. This is particularly true in China, which served as a hotbed of sales activity in 2016. The total of eight deals valued at $234 million in the first quarter marked a decline of nearly 80 percent.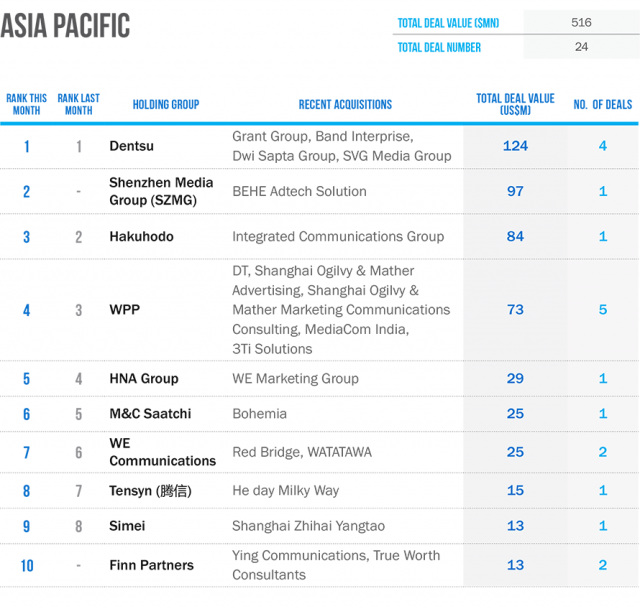 "The [Chinese] market is not as reliable as before," Paull said, describing the current situation as "a lot of 'wait and see'" after a wave of China-based acquisitions by major holding companies. "The jury is still out on ROI," he added, calling this new sense of uncertainty "a big issue."
Throughout 2016, the biggest trend concerned the China buying spree and acquisitions by big media names like The New York Times, Vice and Time Inc., each of which bought up mid-sized companies to help augment its own advertising operations.
Beyond the general slowdown and the uncertainty in China, two trends in particular held true through both 2016 and the opening months of this year: WPP and Dentsu led the holding company pack while other, often unexpected organizations swept in to pick up smaller gems in the U.S. and abroad. These included Salesforce, which acquired digital design and research firm Sequence for an estimated $56 million, Yelp, which spent $20 million on Wi-Fi based marketing company Turnstyle Analytics, and Time Inc., which bought programmatic platform Adelphic in a deal worth nearly $50 million.
Then, of course, there are the consultancies.
A narrative in which Accenture, Deloitte and the like take on major ad agencies by picking off their smaller competitors has been bouncing around the industry for some time, and Paull sees the trend continuing. Accenture, which bought London's Karmarama late last year, bought up The Monkeys of Sydney this week in an attempt to better serve clients in the Australia region—and a consultant who worked on that deal later told Campaign that a consultancy will purchase one of the "big six" holding companies within five years or less.
Paull disagreed, stating, "Consultants are more likely to find agency targets than holding groups. The thought of inheriting a complicated multi-discipline model, particularly with a number of lower margin businesses, is not something they will chase."
He also called the emergence of non-traditional buyers "something new," adding, "It's a sign that a lot of different companies believe some agency assets could help both their top and bottom lines."
"The most interesting trend is clients buying agencies," he continued, comparing recent moves by Yelp, Shiseido and Domino's Pizza to those of the consumer goods giants. "It's like what Unilever has been doing in bringing the creative closer to home" as content production becomes more crucial to every brand's marketing efforts.
Despite these unexpected trends, WPP and Dentsu retained their spots atop the M&A list, collectively averaging four separate deals each week.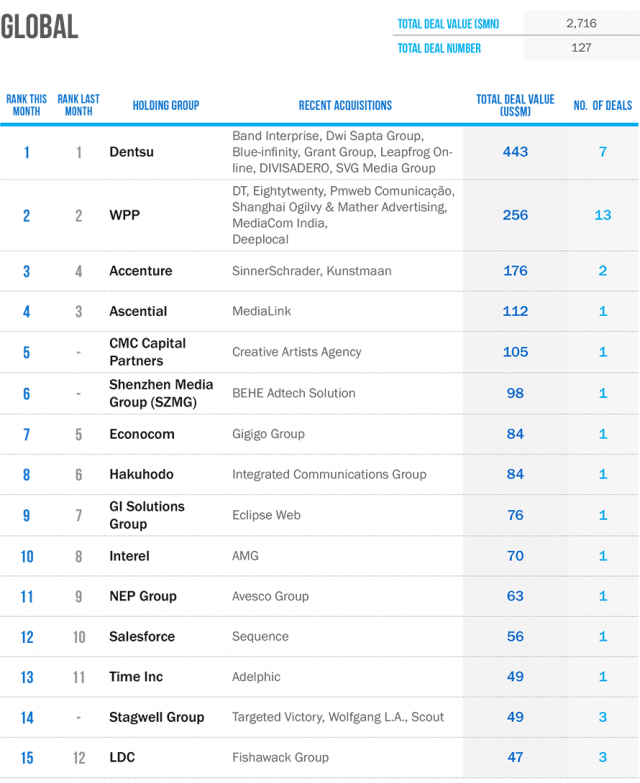 "Dentsu is very aggressive in the analytics space and trying to boost its media capabilities globally [while] WPP is more about giving itself majority ownership of critical global markets," Paull said—hence Dentsu's acquisition of a majority stake in Indian media firm SVG Media Group and Ogilvy's decision to take full ownership of two agency ventures in Shanghai.
Generally speaking, analysts see no slowdown in agency deals as players like Accenture and, yes, even Domino's eye the same properties as the WPPs of the world.
"It comes back to more measurable marketing," Paull told Adweek. "Anyone with digital data at the center of what they do is going to be more interesting than a traditional agency."
One key example is WPP's acquisition of Amazon specialty agency Marketplace Ignition, announced this week. "That is the sweet spot of every CMO right now," Paull said. "Most holding groups don't own any such thing … and there aren't many major agencies left out there to buy."
Source: AdWeek