NEW YORK – APRIL 17, 2019 – R3, an independent consulting firm, assessed 102 M&A deals in the marketing services industry in the first quarter of 2019, with $3.76bn invested overall. This marks a 20% decrease in spend on the previous year.
"It's been a mixed start with fewer big deals and more mid-range and smaller acquisitions," said Greg Paull, principal at R3. "Buyers are becoming more selective as companies are under pressure to revisit their business structures and unlock value."
North America continued to lead M&A value by region ($2.39bn) and volume, while Asia-Pacific and China experienced sharp declines in activity as a result of U.S./China trade disputes and growing economic headwinds.
INDEPENDENTS SHAPE THE LANDSCAPE
Independent agencies led activity this quarter with a 29% increase in total number of deals closed, followed by holding companies and MarTech buyers, though each group recorded a 13% decrease in deal volume.
Accenture Interactive acquired a total of four creative agencies across North America and Europe, with the biggest headliner their purchase of Droga5, which was announced in the beginning of April.
"Though this is the largest acquisition that Accenture has made by price, revenue and headcount, it's the significance of the partnership that has rocked the ad world," says Paull. "This points to creative and technology in the c-suite."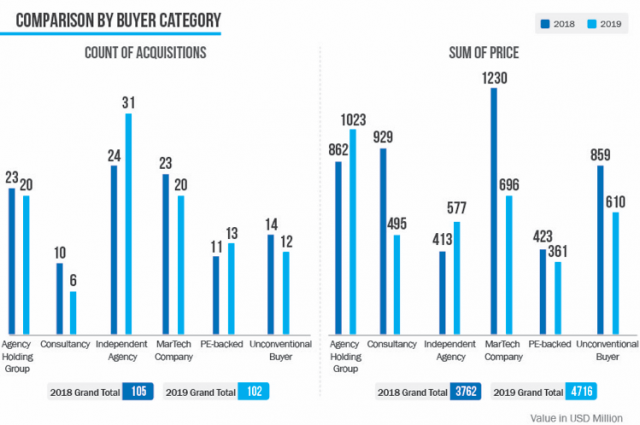 MARTECH CONTINUES TO BE ON BUYERS' SHOPPING LISTS
Buyers continue to search for ways to expand their technology offering with 20% of all acquisitions being MarTech companies.
McDonald's jumped into the top ten most valuable deals with its acquisition of the AI-powered personalization platform Dynamic Yield. This is the largest acquisition that the fast food retailer has made in 20 years and marks a significant investment into the company's "Experience of the Future" transformation initiative.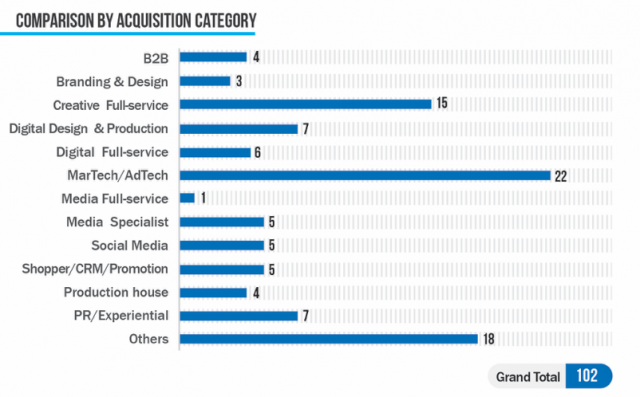 EMEA MAINTAINS MOMENTUM, APAC SEES SHARP DECLINE
Companies in North America closed 7% fewer deals (56) and registered 23% less spend year-on-year. EMEA is the only region to have exceeded the number of deals transacted though this has not resulted in a significant change in spend.
Asia saw M&A spend sharply decrease by 40%. "We'll be seeing a slowdown in the number of Asian deals and value of Asian deals as the uncertain economic climate forces a 'wait-and-see' approach," says Paull.