Shanghai, January 18, 2018 — According to the seventh wave of R3 and SCOPEN's Agency Scope Study, China marketers' rosters are shrinking, and they are moving more business to local agencies. R3 recently met with more than 400 senior marketers in China to understand the process, perception and performance of the agencies they work with. This wave's report covers more than 300 multinational and local companies, with over 740 client-agency relationships analyzed. The shift towards local talent and the decreasing number of agencies on client rosters are just two of the trends identified through the study, with changes occurring in several other areas, including a significant increase in digital marketing budgets.
In the 2018 wave of the study, digital accounted for a staggering 40% of marketing and communications investments for Chinese marketers. This represents a massive upward shift from the 2016 study, when digital only accounted for 25% of marketing budgets. This continues to pose major challenges to both agencies and marketers, with the former struggling to develop the capabilities that marketers now demand.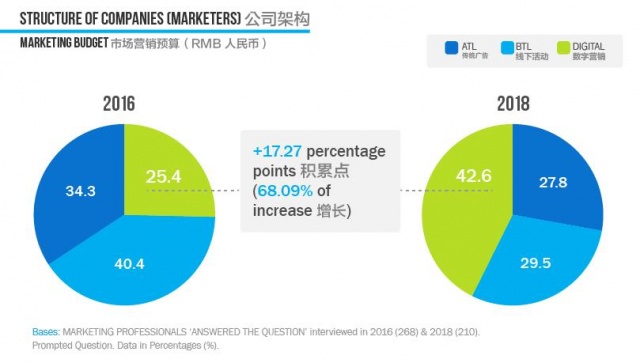 Chinese marketers spend the most on digital when compared to the other countries analyzed in this study, and significantly more than the global benchmark of 30.2%. "Chinese consumers are very digitally savvy, and their desire for brands that are equally as savvy is driving digital marketing budgets up every year," says Sabrina Lee, Managing Director of R3 China. "This trend is posing unique challenges to both marketers and agencies alike, as they have to quickly adapt and build up the capabilities that will help them to meet the consumer demand."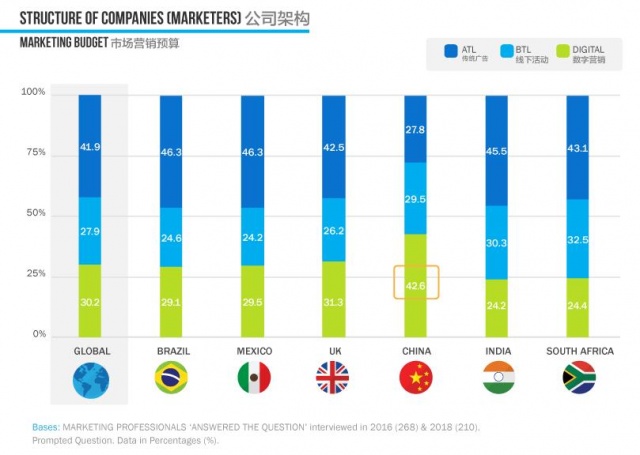 Seven of the Top 20 agencies mentioned by marketers are local firms
As local agencies are growing and building more integrated offerings, Marketers are starting to take notice. Seven out of the top 20 agencies mentioned by marketers in this wave of the study were local firms, in comparison to just four in 2016. Marketers still recognize that there are advantages to working with large, multinational firms, such as global experience, a robust international network and strong strategic planning abilities. However, in the new normal of marketing in China where everything needs to happen at the speed of digital, marketers' values are shifting away from organizations with a complicated bureaucracy that might slow down response times.
Marketers rate local agencies more highly for speed, execution and structure
When asked "What are the key advantages of working with local agencies?" 58% of marketers cited quick response time as very important. Other factors rated as very important include strong execution (54%), simple and flexible structure (52%) and more local insights for strategic planning (46%). This data is in line with reports that global holding companies showed little to no growth in 2017, with the China market playing a key role. Local agencies have been building up their digital capabilities, and coupled with their local expertise and flexible structure, they are becoming more attractive to Chinese marketers looking to cut inefficiencies in their marketing processes.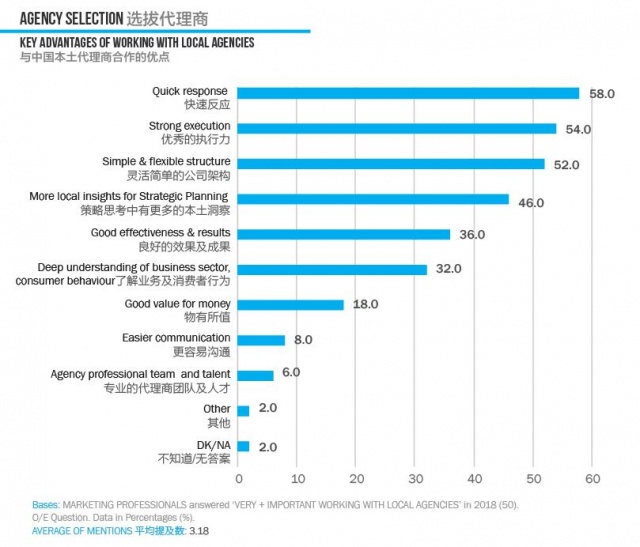 China continues to have the shortest agency relationships in the world at 2.9 years
As Chinese marketers seek out integrated agencies to house all their communications needs under one roof, the number of agencies on their rosters has decreased from 2016. Marketers are currently working with 5.84 communications agencies, down from 6.45 in 2016 and 8.2 in 2014. "The size of the market and complexity of communications in China makes it even harder for agencies to have the best talent in different disciplines under one roof," says César Vacchiano, President and CEO of SCOPEN. "Agencies that can show a real integrated offering will have a big competitive advantage, as 37% of client companies in China are looking for an integrated agency to solve their needs (compared with only 8% of marketers working with integrated agencies today)."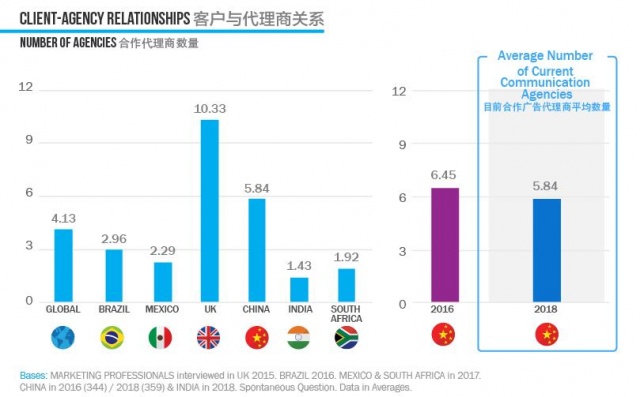 China continues to have the shortest agency relationship in the world, at just 2.9 years. This is due in large part to marketers changing their needs and agencies lacking digital capabilities to solve those needs.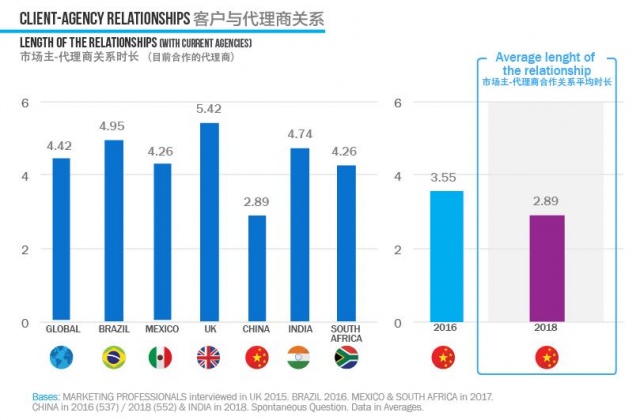 Local Marketers leading peer recognition
The rise and influence of local players is also going beyond just the agencies. When asked which marketers in China are most admired, local firms took four of the top ten positions, led by Alibaba and Huawei who were split by Coca-Cola for the top three positions. "It's clear that building a marketing career in China is not something that's the exclusive domain of multinational brands," said Ms. Lee.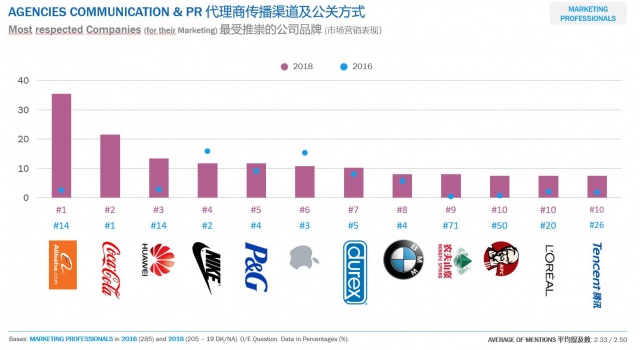 About the Study
Agency Scope is an in-depth, face to face study, covering over 400 senior marketers and 740 agency relationships.
The China Agency Scope is now in its seventh wave, conducted for the first time in China in 2006. The study's aim is to understand the latest marketer-agency engagement trends, and perception and performance of creative, media and marketing services agencies in China.
In-depth face-to-face interviews were conducted with senior Chinese marketing decision makers from China's top marketing companies, providing comprehensive data and insights to help agency networks and marketers forecast and benchmark their businesses. The study is conducted every two years in China, making it the most robust independent tracking measure of Chinese agencies and their client relationships.