Digital advertising revenue in China is estimated to increase by 22% in 2021, according to independent marketing consultancy R3. The company's eleventh China Media Inflation Trend Report notes that the cost of OTV media in China will increase by 5% for advertisers in 2022 as people turn to mobile phones for entertainment with longer work commutes and varied levels of mobility due to the country's 'zero COVID' policy. Mobile ratecard inflation will remain unchanged from the previous year (9%) though net cost inflation will increase by 2%.
"High demand will result in mobile being even more expensive next year for advertisers in China," says Greg Paull, Co-founder and Principal at R3. "Price and competition will see greater investment in performance marketing as marketers will want to develop their own data pools and be less reliant on third-party platforms to drive ROI."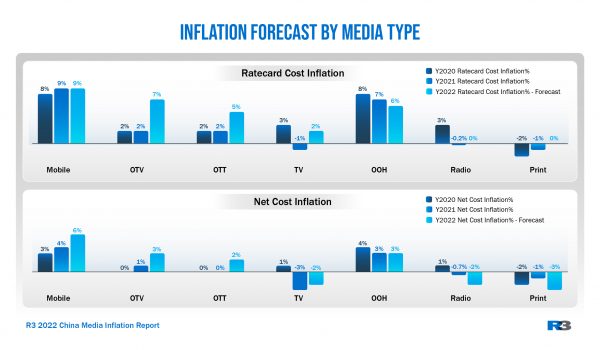 Data As the Reason for Digital
Inflation in digital media will grow in tandem with the size of China's consumer data pools. Omnia network estimates that China will become the largest source of consumer data in the world in 2022, enabling marketers to unlock real opportunity and further drive digital investment. This is reflected in media inflation rates of OTV and OTT ad formats (6-9%) which provide advertisers with greater geo-targeting ability.
Social will have the highest inflation rates on mobile with cost-driven by Douyin, Bilibili, Red and Weibo. Apps in Automobile, Sports and News categories are projected to have slight inflation, while apps in already crowded verticals like Mom & Baby and Beauty will maintain a flat price.
Streaming Video to Lead Ratecard Costs
Within the BAT media group, short video apps and personalized content platforms like Douyin, Toutiao, and Tencent Flash Screen will have the highest inflation as algorithms get better at tailoring content to each user. Further integration of entertainment, livestreaming, social media, and commerce will strengthen advertiser preference.