This article is by Shufen Goh, Co-founder & Principal at R3.
When we started CMO Outlook in partnership with Campaign, the intent was to support marketers with insights from their peers so that collectively, as a network, we could get a glimpse of where the industry was headed in the short-term.
Now, it seems that the near future is even more crucial as no one really knows with absolute certainty how economies will take shape in the next year and beyond. Will it be a V shape or U shape recovery? How quickly will businesses pivot now that e-commerce is table stakes? And how much will consumer goods and services be impacted by higher unemployment rates?
Trust with partners, consumers and in data
The data and interviews collected for this edition of CMO Outlook took place from January to March 2020. Though it does not capture the full impact of COVID-19 on marketer agendas, there is an overarching trend that suggests that trust is one of the most pressing issues that marketers need to deal with. Trust with partners. Trust with consumers. Trust in the data.
This element of trust is crucial if we are to work towards making the most of our resources within existing limitations. Transparency helps decision-makers in the c-suite and at the checkout, and the resulting feeling of security and reliability will build loyalty that contributes to brand value in the long run.
Here are five key insights from the report.
Google loses cache with marketers as mistrust brews around lack of objectivity.
Marketers want savvy data translators and agile cross-platform creatives.
Marketers are looking for ways to increase ROI and make existing assets work harder.
Indirect competition leads to a decline in confidence in current marketing efforts.
Influencers are bridging emotional connections in an increasingly transactional economy.
1. Google loses cache with marketers as mistrust brews around lack of objectivity.
As Google's ad business starts to feel increased pressure, one area which the tech platform needs to look out for is its decrease in influence with senior marketers. In the H2 2019 wave of this survey, Google rated as having the most influence on marketing decisions, whereas, in our latest results, the platform's cache with marketers has fallen to fourth place as the technology brand is perceived as lacking objectivity. This bodes well for agency partners (creative and media) who now take on a greater role in influencing marketing decisions, and this should be a catalyst for them to act on strengthening their position with creative and innovative content.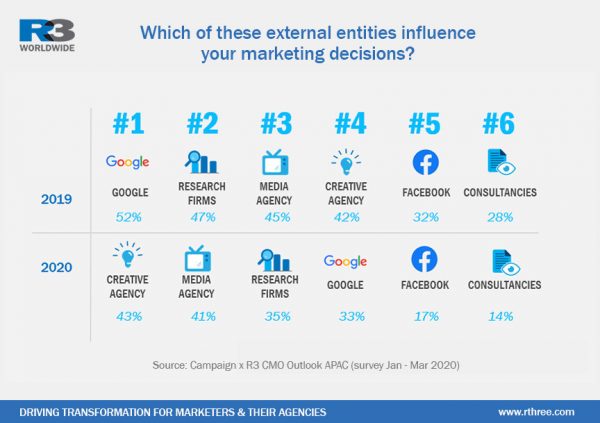 Full results of CMO Outlook is only available to Campaign Asia subscribers.
To read the full article, visit Campaign Asia.
---
CMO Outlook
CMO Outlook is a forecasting survey by R3 in partnership with Campaign Asia. It provides a deep dive into marketers' future needs with a blend of quantitative and qualitative questions. In the H1 2020 survey, 60 senior marketers from a wide range of industries (see companies below) shared their insights on marketing talent, partnerships, technology, budgets, and working with social influencers. To participate in the next wave of CMO Outlook, please contact us or email Amanda Tan at [email protected].