This article was written by Anne Ridwan, Country Director, R3 Indonesia.
Crises don't change technology trends so much as they accelerate them. With 66 million viewers in Indonesia consuming 3 billion hours of OTT content every month, the pandemic-related boost given to streaming is here to stay. According to a study by The Trade Desk, 66% of OTT viewers are tuning in more than before and 73% of Indonesians are planning to maintain or increase OTT viewing time in the future.
The growth of OTT in Indonesia can be attributed to the growing penetration of smartphones due to falling handset prices, improved mobile broadband coverage, and affordable Internet access. With hopes of capturing these users, OTT platforms are finetuning their offerings based on consumer preferences.
Disney+ Hotstar, a low-cost version of Disney+, partnered with Telkomsel as a means to reach the telecom provider's 160 million registered users.
The top three platforms in Indonesia's Play Store entertainment category offer more local and Asian content than other platforms.
Vidio offers a sports broadcasting service and its subscription setup includes a weekly payment option.
The Opportunity for Advertisers
The growth of ad-supported OTT media presents a tremendous opportunity for advertisers as even premium broadcasters are forced to bring their programming to the smaller screen to protect revenue. This is creating new ad placements that combine the attention-grabbing quality of television content with the highly targeted impressions of digital channels.
However, it is important to consider the buying methods that are supported by that particular partner. In the realm of OTT, direct buys from publishers or platforms still account for the lion's share of inventory sold. But increasingly, OTT platforms are making at least some of their inventory available via programmatic trading platforms – presenting an easy way in for testing their inventory.
Successful Ad Campaigns on Indonesia's OTT Platforms
To drive sales, Grab Food Indonesia wanted to advertise across OTT and online video platforms with interactive ad formats that will take viewers to their 50% discount landing page.
Pantene ran an all-female targeted ad campaign across two leading OTT platforms – Viu and iflix.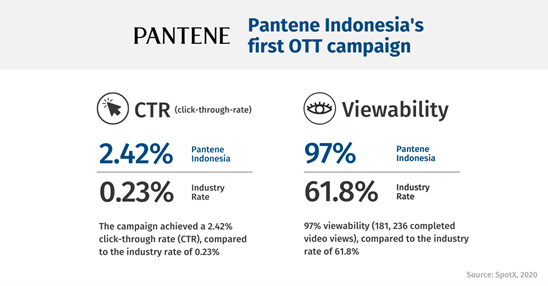 Nestlé was searching for a solution to scale brand awareness for Milo to reach a growing demographic of mothers who are increasingly online. The campaign was delivered on Viu.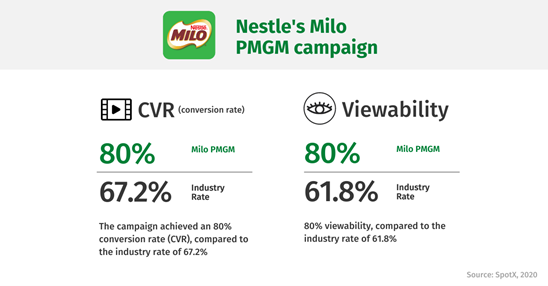 Challenges and Constraints in Using OTT Media
Given the relative infancy of OTT platforms, the main challenges of investing in OTT advertising are the volume, cost, and nature of inventory advertisers are getting in return for their investment.
OTT still lacks the scale of TV and Social: While the shift in consumer media consumption trend towards online streaming platforms is clear, there is still a long way to go before OTT platforms can achieve the scale that traditional TV and social media platforms currently have in Indonesia. During the pandemic, 59% of people watched traditional TV and 61.8% of the total population used social media, compared to 24% of the total population adopting OTT.
Inventory is too expensive: Armed with better quality audiences (through first-party data) and being a newer form of advertising, OTTs tend to price their inventory higher than run-of-network video channels. Hence when OTT inventory is compared directly against that of YouTube, Facebook and other video platforms, advertisers find it to be more expensive. This challenge is exacerbated by the fact that there is little to no standardisation in formats and metrics measured, across various OTT platforms, not to mention between OTT inventory and social media video inventory.
Limited to the upper funnel: OTT platform usage is largely mobile-driven. Hence OTT platforms in this region are creating ad formats that are more suited to the mobile device, opening up much more scope for lower-funnel tactical and conversion campaigns. With more and more OTTs introducing native ad formats with interactive overlays, advertisers in this region should shift their perspective on the utility of OTT inventory for lower-funnel campaigns.
Not available programmatically: For advertisers who see OTT media as another source of digital inventory, the lack of programmatic availability of OTT inventory can be a prohibitive challenge. Programmatic buying of OTT inventory would help to alleviate concerns over frequency capping, audience targeting and campaign optimisation.
As OTT viewership continues to become more mainstream, the advertiser offering will mature, become more robust and also self-adjust downwards in terms of pricing. However, a price premium is likely to still hold over other digital video channels and education is necessary for advertisers to better understand how OTT should be positioned in marketing plans and strategies and how it should be best used.