Holding companies including Publicis and WPP restructure as clients increasingly seek integrated solutions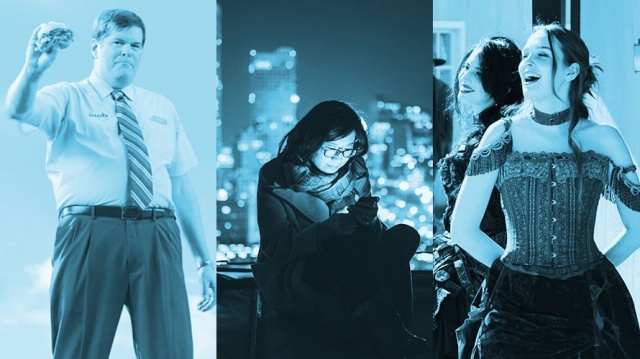 Last June, a bizarre campaign known as "IHOb" had social media users buzzing about the possibility of the International House of Pancakes turning into the International House of Burgers … or Bacon? Biscuits?
That stunt garnered 1.2 million tweets and over 15,000 earned media stories in 10 days and was the result of a true collaborative effort on the parts of both media and creative—IPG-owned Initiative and Droga5, respectively. The agencies, earning a place on Adweek's list of Best Media Plans of 2018 for the effort, saw the need to make IHOP into more than a weekend breakfast destination and were behind a series of mysterious social media posts that led to the debut of the chain's Ultimate Steakburgers. The latter was unveiled in Droga5's creative.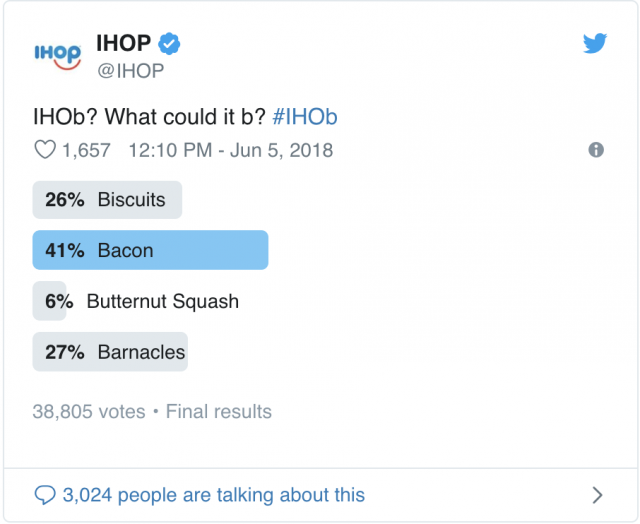 "We collaborate very closely with Initiative, and they have been excellent partners in helping us not only get to better work but in making sure it has the biggest impact and reach," said Droga5 chief media officer Colleen Leddy. "The partnership is especially valuable in that we are truly partners: We look for solutions together and generally come together with a joint [point of view]."
With the emergence of new technologies and advanced marketing capabilities driven by data and analytics, and as a new generation of agency leaders rises, partnerships in which media and creative agencies work closer in tandem for clients are becoming the norm. Clients are increasingly consolidating their advertising needs with one agency or holding company, and it has some speculating whether this will eventually result in creative and media being placed under the same roof again.
"Significant media and advertising budgets changed hands in [the fourth quarter of 2018] with pitches that combined creative, data and media," said Forrester principal analyst Jay Pattisall. "We're also seeing digital and performance agencies like 360i, Ansira, Merkle combine media and creative execution. Based upon this trend, I expect to see the consolidation of media and creative services in one or more of the major agency holding companies in 2019."
Housing media and creative—and everything else for that matter—together offers several advantages, including allowing creatives to respond and adjust campaigns in real time based on audiences' reactions, and being able to lean further on data to influence creative ideas. This shift has been happening for several years, but it's gaining momentum.
Madwell co-founder and CEO David Eisenman said "nine out of 10 RFPs" the agency received in 2018 included both a media and creative element, driven by the "new guard," or millennials, who are stepping into C-suite roles and rethinking how all the elements of advertising can work together.
In 2018, several agency reviews spanned media planning and buying, creative, digital, social, etc., instead of one concentrated area. And while there was a 12.1 percent increase in the amount of strictly media reviews launched in the U.S. last year, according to an R3 report, all of the agency executives interviewed for this story agreed that those briefs no longer just require planning and buying capabilities, but expertise in strategy, communications planning and creativity, among other areas.
Restructuring the agency model to meet clients' evolving needs
Carla Serrano, chief strategy officer of Publicis North America and CEO of Publicis New York, said the holding company "built creative chops" into its pitches for the media accounts of GlaxoSmithKline (GSK) and Marriott International. The holding company used its PeopleCloud to pull talent from across healthcare, consumer strategy and digital business transformation to serve GSK through a dedicated unit called platformGSK. For Marriott, Publicis formed Marriott One Media that includes talent from SapientRazorfish and Spark Foundry.
"For us, we bet on this," Serrano said. "We foresaw this, which is why we restructured our organization in 2015."
In 2015, Publicis began restructuring its organization to its "Power of One" model, and streamlining its global operations into four "solutions hubs." Under CEO Arthur Sadoun, the holding company enacted a "2020: Sprint to the Future" plan focused on three pillars of growth: its PeopleCloud, the network's cloud-based platform that identifies sources of client growth at an individual level; "dynamic creativity" focused on personalized content; and technology and consulting led by its digital business transformation unit Publicis.Sapient.

These changes help Publicis create custom teams to meet the individual needs of its clients. Under this model, Serrano said "the holding company is the leader of new business" rather than single agencies or networks, with certain exceptions. Agencies do still handle smaller pitches on their own but on large integrated reviews, Publicis will "cast" the participating talent "appropriately," she added.
"Today requires a different approach to brand building and innovation," said Geoff Tanner, svp and corporate officer for growth and consumer engagement at Smucker's, which consolidated its U.S. creative and media efforts at Publicis last October. "From the first meeting with Publicis, it was really clear that they believed in the 'Power of One' as a way to build brands today."
There's no one solution to creating the 'agency of the future'

According to R3, Publicis earned the most in revenue ($736.4 million) in 2018 compared to the other major agency holding companies, suggesting it's doing something right. "It was a year that [Publicis] achieved the horizontality that other holding groups have talked about," R3 principal and co-founder Greg Paull said.
Horizontality, a buzzword coined by Martin Sorrell, is essentially the combining of various talent across agencies to service one client. Preparing for this integration is four years in the making, Serrano noted. "We worked really hard and we're starting to see the benefit of that," she said.
Through the mergers of VML and Y&R and Wunderman and J. Walter Thompson, WPP initiated its own restructuring under new CEO Mark Read that combined certain digital agencies with traditional creative shops.
"Our solutions for clients are increasingly predicated on going beyond just communications, to bringing in our capabilities in commerce, technology and creating experiences," said WPP chief client officer Lindsay Pattison, who added her "job in a nutshell" is bringing clients "the best of WPP."
Last January, Bose awarded its $150 million account to a dedicated WPP team comprised of Grey, Wunderman Thompson, Hogarth Worldwide and MediaCom. In December, Newell Brands consolidated its business with WPP, giving the holding company business to Wunderman Thompson, VMLY&R, Mindshare, Geometry and Eicoff through a dedicated unit called Team Newell.

"Every single client is seeking the agency of the future," Pattison said. "But the truth is there is not one solution; it's more about their agency of the future rather than the agency of the future."

'Media and creative are stronger together'
According to Forrester, the decoupling of media and creative started in the mid-1980s. In 1986, BBDO, DDB and Needham Harper & Steers combined to form holding company Omnicom Group. 10 years later, the media buying divisions of those agencies formed a separate group: OMD. Other holding companies made similar changes throughout the 1990s and early 2000s.
"The reason for separating media from creative was for publicly traded companies to create a new profit center by charging separate fees for media and creative services, rather than a 15 percent commission for both," Pattisall explained.
"Media and creative are stronger together," he added. "The reason why media and creative agencies' businesses are "commoditized and struggling today" is because they are "less powerful and impactful" when divided.
Still, some executives are wary that too much integration can devalue agencies' own individual brands.
"The problem with lots and lots of integration is one can lose the quality of the stuff you put into the machine," said Al Moseley, global president and CCO of Omnicom's 180LA.
"How does the talent feel" when they are plucked from agencies and given random assignments across the holding company, questioned Scott Hagedorn, CEO of Omnicom's Hearts & Science.
After acquiring DirecTV for $50 billion in late 2015, AT&T sought to consolidate its media business, which had been with MediaCom, and creative. Omnicom emerged victorious in what Hagedorn described as the only review in which he pitched alongside a creative agency (incumbent BBDO). While he acknowledged the need to combine certain "quantitative" duties with "qualitative," he is unsure if agencies should consider restructuring their businesses around it just yet.
Either way, both Moseley and Hagedorn said they have easy access to Omnicom's various other agencies and services if needed.
"We're based in L.A., on the campus of OMD," Moseley noted. "We can walk to all these other agencies. … Agencies shouldn't be islands; they should be connected."
While there may always be a need for specialist or boutique agencies in certain cases, traditional shops that house just creative or just media could be in trouble in the future if this trend persists.
Source: adweek