Welcome to the latest issue of R3LATIONSHIPS – our update of trends and insights in the marketing industry.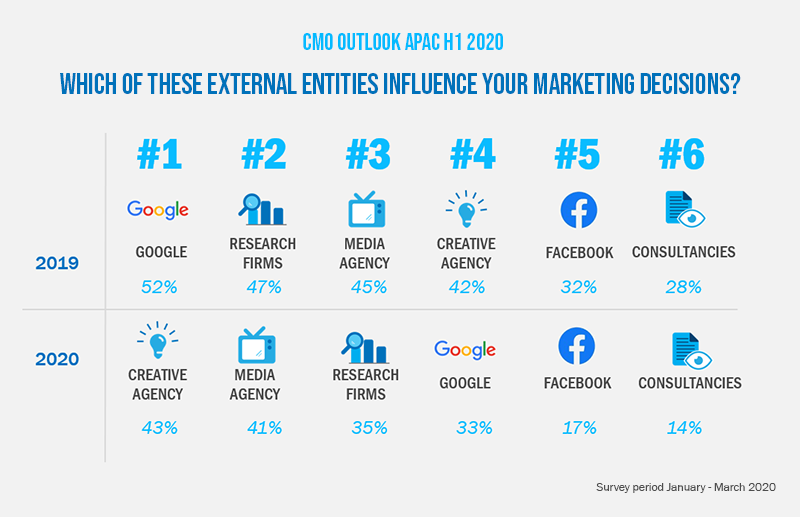 Google's influence with senior marketers in APAC is taking a hit. The tech company has moved from being the most influential external entity on marketing decisions in the region (H2 2019) to fourth on the list according to R3 and Campaign Asia's CMO Outlook survey.
If you're a senior marketer in APAC, sign-up with Amanda Tan to participate in our next wave (July) and receive access to exclusive data and insights from the network.
---
What's the Secret Sauce of DTC?
DTC is not just about how people shop, but how products are being developed and how revenue is generated. It is also about how the power of data, artificial intelligence, and machine learning can drive discovery, sales, and loyalty. In our latest white paper "The Secret Sauce of DTC" we look at:
What gives DTC brands their edge?
What are the risks and efficiencies?
Should market leaders buy or build their own DTC brands?
Preview and request a copy of this white paper
---
Holding Group Market Capitalization 2011 – 2020
How have holding group market capitalizations changed over the past 9 years? Watch for key moments in this dynamic video when Omnicom overtakes Publicis in 2015 (00:16), Dentsu and Publicis compete for third place (00:20), and Omnicom rises to the top in 2018 (00:30).
---
What Can Process Audits Do for Digital Media?
Process Audits ensure that all the factors leading to digital media efficiency and effectiveness are in place. From when a Brief is issued for a campaign, to Insight Analysis, Tactical Planning and Post-Buy, putting checks in place to monitor the quality of work every step of the way helps optimize overall campaign performance.
If you're a marketer who would like to learn more, request a copy of our recent webinar on Media Benchmarking.
---
R3VIEW's Top Stories In Q2 2020
In our latest edition of R3VIEW, we feature the stories that are shaping the marketing communications industry and provide a list of relevant resources. PDF and online access are available to marketers upon request. Want to stay informed?