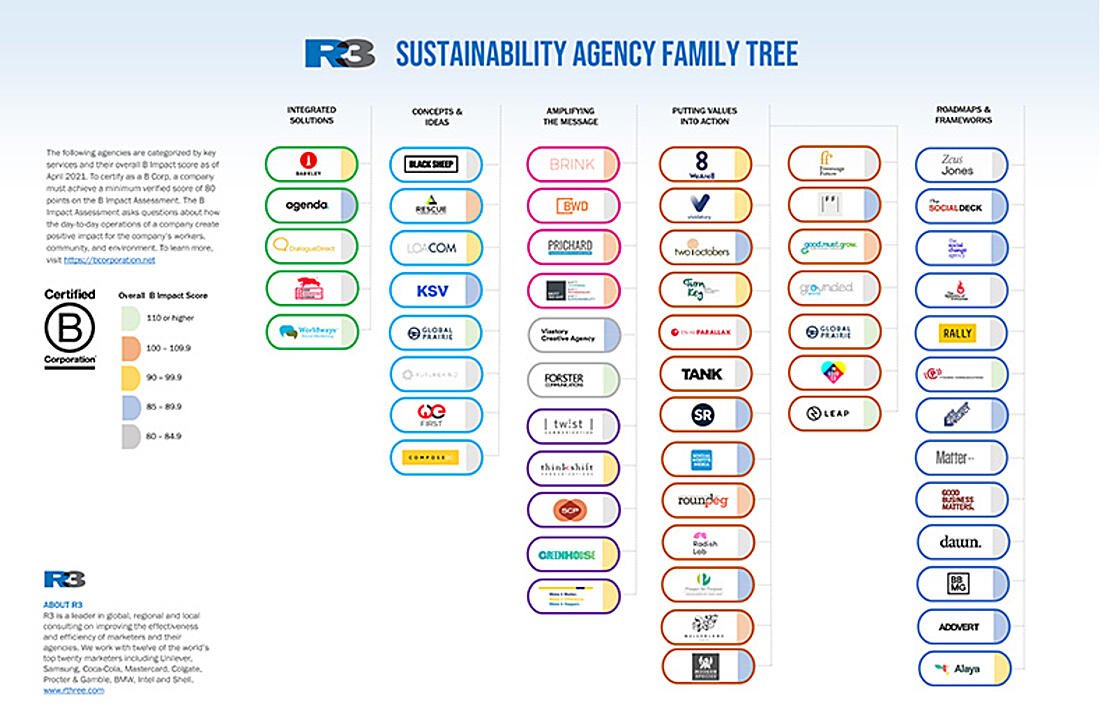 R3LATIONSHIPS (19 April 2021) – This issue looks at working with sustainability agencies, marketing M&A, and how the type of organization shapes digital partnerships.
"Good for the planet and people" has taken on new meaning post COVID, and brands have been adding specialist agencies to their rosters in the area of sustainability. These agencies might specialize in internal communications, overall brand strategy, working on campaigns with sustainability messaging, or even making digital footprints more carbon friendly. In this R3 report, we look at how marketers can best work with these agencies, and what to consider when setting KPIs. Request the report or ask for a copy of the Family Tree.
In an R3 study on the structure of modern marketing organizations, we looked at teams from companies such as Nike, Lego, Amazon, and Nestlé. Studying these leading brands helped us identify several types of marketing teams as characterized by marketing goals, priorities, differences in team function, and overall team structure.
Southeast Asian ride-hailing and food-delivery giant Grab Holdings has announced its intention to go public in the US as it merges with US-based Altimeter Growth Corp. R3's Greg Paull and Shufen Goh weigh in on the impact that Grab's ambitions will have on marketers. A more vertically integrated app will give marketers options beyond the walled gardens of the big four. Read the full article at PR Week
In a recent discussion with Mastercard CMO Raja Rajamannar, P&G's Marc Pritchard said the future of marketing can be found in China. Using marketing in China as a roadmap, R3's Greg Paull makes a few assumptions about what to expect with regard to marketing strategies and agency partnerships in the next three years. The shift in this direction has already begun. Read the full article at Campaign