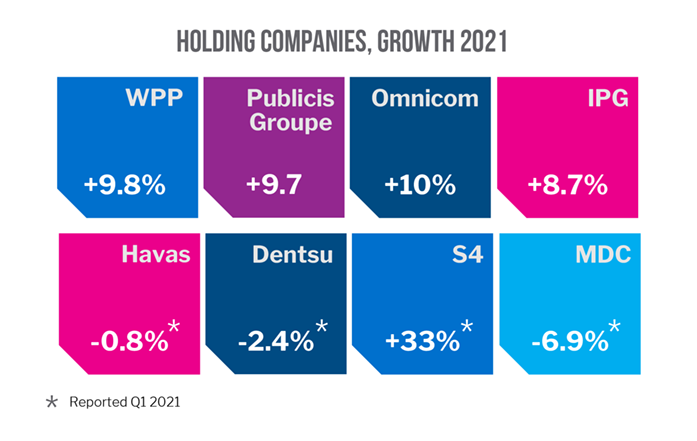 R3LATIONSHIPS (5 August 2021) – This issue looks at how marketers can respond to the end of third-party cookies, and the increasing cost of influencer marketing.
Will Agencies Sustain Momentum in H2?
Three of the largest ad holding companies posted strong organic revenue gains after more than 18-months of chasing stability in a volatile environment. Will there be more restructuring in the near future? "Agencies are ready to move on. They've done the hard work and removed and recalibrated anything that might mute future growth," said R3's Greg Paull. "The only changes we might see in H2 would be the creation of new entities or the reshuffling of teams as a response to client needs in the new environment." Read the article at Marketing Dive
R3's EVP of Digital, Jason Velliquette, highlights the costs and risks of NFTs, and discusses why marketers would be smart to keep an eye on the NFT industry as it matures and becomes mainstream. "The potential is not in what has already happened; it's in the ideas of what copyright, production, and ownership mean in a digital world."  Read the article on Adweek
Marketers Believe They Can Do Better in ESG
56% of senior marketers in APAC think their companies "could do better" regarding Environmental, Social & Corporate Governance (ESG) and 2% of APAC marketers surveyed said issues related to ESG were not important. This suggests ESG needs more attention from corporate leadership, and opinion still exists within some companies that ESG is a distraction from "real" performance drivers, writes R3's Shufen Goh. Read the full article
Will Alibaba & Tencent's Collaboration Impact Western Tech Giants?
As two of the largest Chinese tech platforms, Alibaba and Tencent, are looking at how they can integrate their walled gardens, it is unlikely that similar partnerships will take place in the West. According to Greg Paull, China is a unique market, and global platforms like Google and Facebook will not voluntarily match the country's regulations. In fact, he says instead of "walls coming down", walls are getting thicker. Read more on The Drum