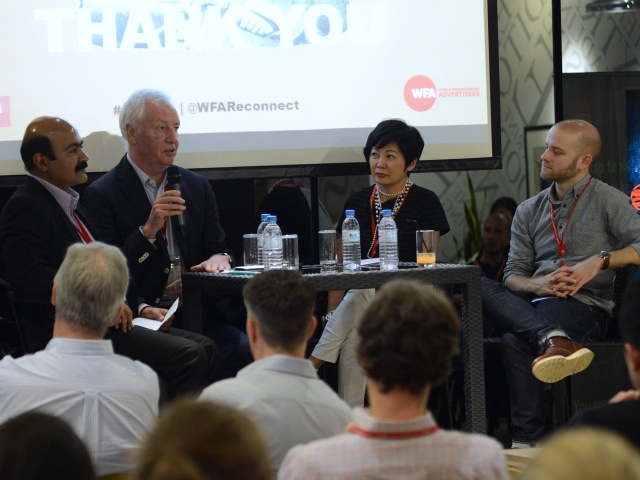 Last week, the Word Federation of Advertising held their annual Global Marketer Week in Kuala Lumpur, Malaysia, a four day-long event covering all things marketing. R3 Principal & Co-Founder, Shufen Goh, joined the Project Reconnect: People Inc. panel on March 16th, alongside David Wheldon, CMO RBS, Amit Sinha Roy, VP Strategy & Marketing of TATA Communications, Jon Wilkins, Executive Chairmen of Karmarama, and Will Sansom, Director of Content & Strategy at Contagious Insider.
Throughout the panel discussion, Shufen touched on several topics, like what best practice collaboration looks like in terms of client, agency & partner relations, the best possible conditions for great work to flourish, and examples of where things have worked well and where they haven't.
"It's not just about how brands navigate data, digital and disruptions," said Shufen. "Ultimately, it's about being human in how you connect and build trust with people, whether they're your CEO, your customer, or your agency partners. Trust takes ages to build and one post to shatter. Putting people first is no longer an option"
More About Project Reconnect
:
Project Reconnect is an initiative led by the World Federation of Advertisers to try and develop a better understanding of what people want and expect from brands. In an age defined by ultra-connectivity, transparency, and where standing out from the crowd is harder than ever, many brands need to adapt. Increasingly aspirational and demanding consumers expect brands to stand for something more, provide experiences and address some of the world's problems: it's no longer just about the functional delivery of a product or service. Project Reconnect seeks to inspire marketers with great brand stories, strategies and executions, identify why they succeed and deliver actionable insight that marketers can transfer into their day
To Learn more about the WFA Global Marketer Week, please click here. 
Related Services: