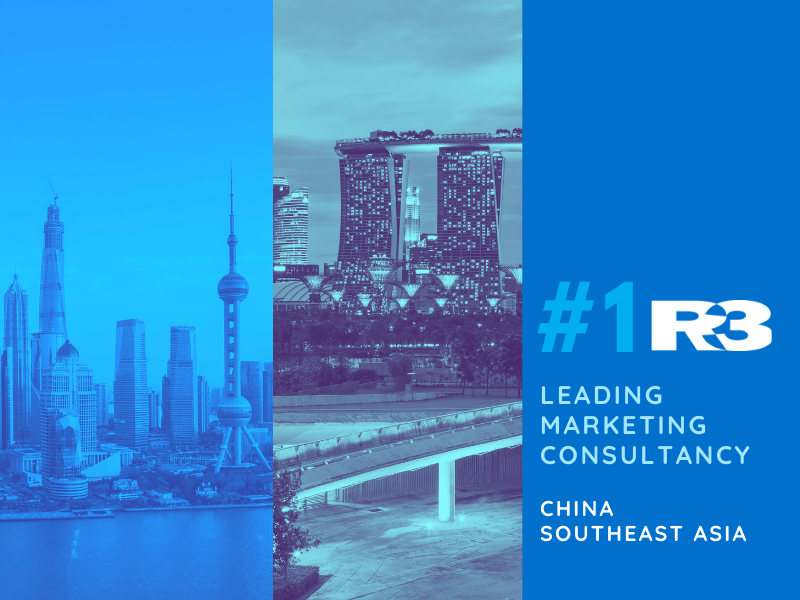 Global marketing consultancy, R3, has been ranked the #1 marketing consultancy in China and Southeast Asia in an independent report released by the investment intelligence company China Insights Consultancy (CIC). The report covering independent marketing consulting across Southeast Asia, China and the United States found that R3 leads in share of marketing consulting services with 16.1% of the market in China and 14.2% in Southeast Asia. CIC's study involved interviews with leading industry experts, publicly available data sources, and proprietary data.
"We built R3 for times like these," says Greg Paull, Co-founder and Principal, R3. "The ability of our consultants to support CMOs and marketing teams in countries where consumers, technology, and governance are incredibly dynamic speaks to the knowledge and expertise we have in these regions."
#1 in China
R3's long-term partnerships with multinational corporations and local companies in China makes it a leader in one of the most influential and innovative consumer markets. R3's dominant position in the agency management business and "great reputation in terms of providing media audit and advisory services in China" has given the consultancy an advantage over other independent marketing firms. The top five leading marketing consultancy companies in China account for 38.6% of the total market in terms of revenue. These include Ebiquity (9.1%), Accenture (5.4%), EY (4.0%) and FTI Consulting (4.0%).
#1 in Southeast Asia
The marketing consulting industry in Southeast Asia is highly concentrated with the top five leading companies accounting for more than 40% of total market in terms of revenue. R3's footprint across the region, with key operations in Singapore and Indonesia, "offers marketers access to expertise and services required to establish and administer effective multinational agency engagements." Market share held by competitors in the region include Ebiquity (10.4%), Accenture (7.1%), Observatory International (5.7) and TrinityP3 (4.7%).
"The need for greater accountability in media and agency relationships has increased our scope and support for some of the biggest brands Southeast Asia," says Shufen Goh, Co-founder and Principal of R3. "Through the work we do, we're also committed to elevating the marketing industry as a whole, working with marketers and agencies in the region to address issues of Diversity and Inclusion, as well as Sustainability."