The power of digital media and the growing importance of first-party data has led to an increased involvement of specialist agencies and platforms in marketing campaigns. In Integration 2030, a study on the future of integrated marketing by global independent marketing consultancy R3, more than 65% of integrated marketing was found to feature work by niche agencies for services such as sustainability, metaverse, social influencer engagement, and data analytics.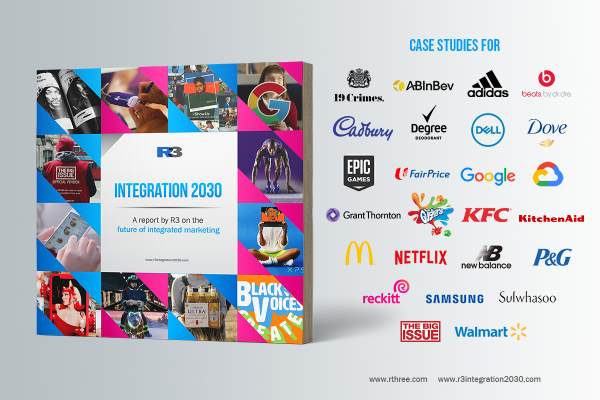 "Speed to market and cost management are not the only factors flexing the traditional agency model," says Greg Paull, Co-founder & Principal at R3. "The best integrated work starts with leadership built on a vision and an openness to involve best-in-class capability when needed."
In addition, the research also pointed to the power of agencies as strong strategic guardians for marketers. "Archimedes said "Give me a place to stand and I can move the world" – none of the work showcased in Integration 2030 would have been delivered if not for a strong foundation of trust between client and their AOR."
What's Shaping Integration
Integration 2030 explores the factors that are moving brands toward new agency models and highlights 25 case studies for brands such as Cadbury, General Mills, Netflix, New Balance, Procter & Gamble and Walmart.
The report investigates the pros and cons of R3's Six Degrees of Integration (Multiple Best-in-Class, Lead Agency, Holding Company, Custom, Free Agent and Full Service) through the lens of brand priorities, innovation, in-house teams, data ownership and specialist partners. In R3's study, four factors were found to be shaping the direction of client-agency partnerships:
The Role of Marketing as Conductor: As the number of partners grow, marketers face the challenge of aligning varied partners towards a common a goal.
The Role of Global and Local: With emphasis on real-time content for personalized consumer journeys, the role of local markets is getting more prominent. Global teams need to stay focused on governance, while local teams amplify and activate.
The Role of In-House Agencies: Careful consideration needs to be given to internal ability to nurture existing talent, the different types of technology required to do the work, and how overall operational costs compare to existing agency fees.
The Role of Data & Innovation: Brands deploy various strategies and tactics, but every "customer obsessed" brand leverages data strategy fundamentals at their core.

"Every marketer in pursuit of efficiency and effectiveness needs to know if they are working with the right agency model. And every agency model needs to evolve to reflect a brand's current position and future ambition," says Paull.
The R3 Integration 2030 report is a companion piece to the R3 Agency Family Tree, a landscape summary of the world's top ten agency holding companies and fifty leading independent agencies.
For more information on Integration 2030, please visit https://r3integration2030.com/