New York, 2018 – An explosion of M&A activity in the marketing space from new and unconventional buyers has led to an 88% increase in activity when compared to the same time last year, according to a recent report by independent consulting firm, R3. Based on their analysis, while the total number of deals remained steady YoY (198 in 1H 2017 vs. 199 in 1H 2018), the total deal value increased from $4.9b to $9.3b.
This increase has also been driven by a sharp uptick of activity from both unconventional buyers such as AT&T and WeWork and martech companies, where there were 39 deals completed in first half of this year and tremendous growth in deal value.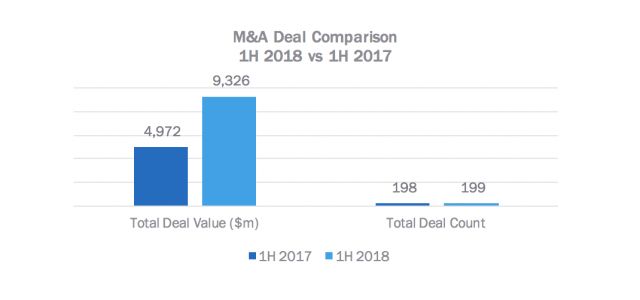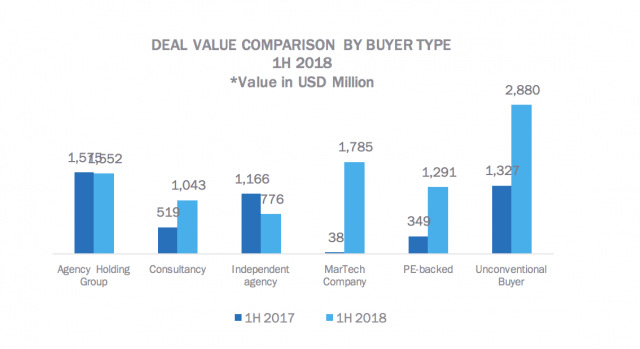 "It's clear that the consulting firms aren't slowing down, Accenture invested more in M&A than the top two holding companies – Dentsu and Omnicom – combined," said Greg Paull, Principal & Co-Founder of R3."The real story in the first half of this year has been the unconventional buyers. We are seeing brands like L'Oreal, Cars.com and AT&T becoming active in the marketing M&A space to invest in and build up internal capabilities.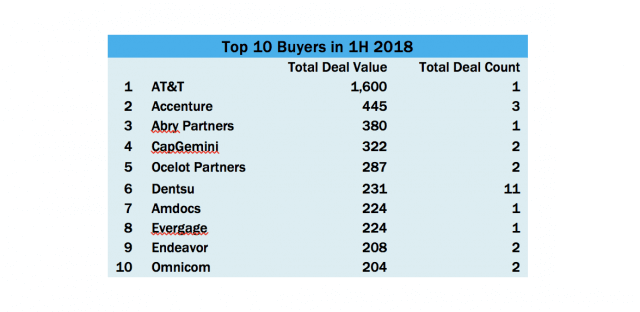 Strong Growth in North America, Decline in LATAM
R3 assessed 199 deals in the first half of the year, and while the YoY numbers didn't change much across regional markets in terms of deal number, there were seismic shifts in terms of deal value. North America saw an increase of 171%, with the deal value increasing to $6,603m over $2,428m from the same time last year. "North America's deal value increase was driven largely by AT&T's acquisition of the programmatic ad marketplace, AppNexus," said Paull. "AT&T is not the first telecom business to feel the squeeze from the likes of Google, Apple and Facebook, who largely dominate the content & advertising landscape in this space," he added.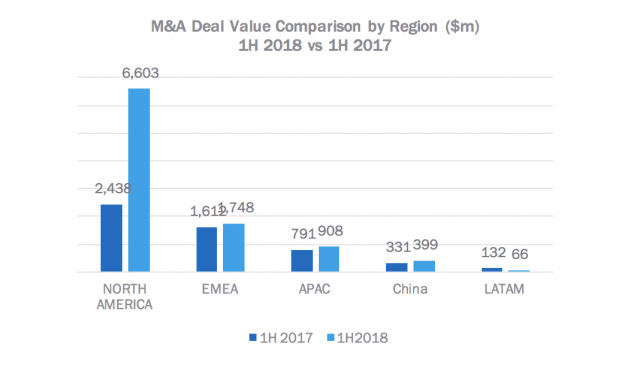 Both APAC (+15%) and China (+21%) saw a slight increase in terms of deal size over the same time last year, but LATAM has seen a dramatic decrease (-50%) in deal size even though there was only one less deal completed than in 1H of 2017.
Omnicom, Hakuhodo and IPG Increase Activity in 2018
In terms of number of deals, only three holding groups made more acquisitions so far this year than in the first half of 2017 – Omnicom, Hakuhodo and IPG. The three holding groups also saw larger deal sizes in the first six months of this year – $204m for Omnicom, $132m for Hakuhodo and $42m for IPG. The two most traditionally aggressive holding companies in the M&A space, Dentsu and WPP, saw YoY decreases in both number of deals and deal value in 1H, although they did manage to lead the agency holding group category at 1st and 3rd place, respectively. IPG's highly publicized purchase of Acxiom's Marketing Services business was not included in this round of tracking since it occurred in July, however it does signify a growing need to holding companies to bolster their data & analytics capabilities to meet client expectations.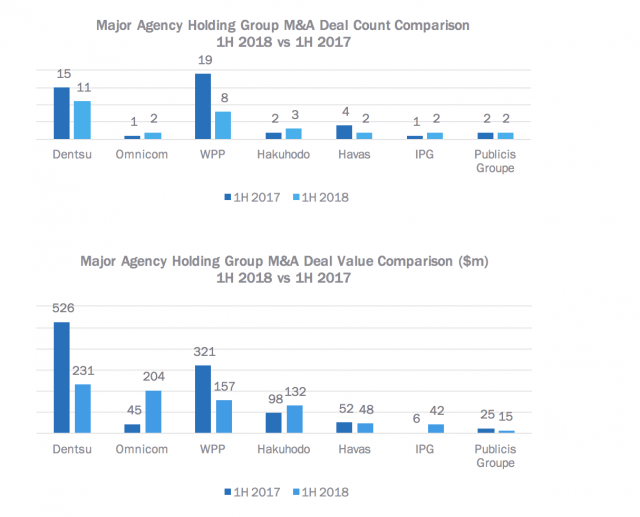 MarTech & AdTech Services are in Demand
In terms of what types of companies are being acquired, there was a sharp increase in demand for martech and adtech companies in 1H of this year. In the first half of last year, only 24% of deals were in the martech/adtech space, but in 2018, that number jumped to 42%. There was also an increase in the acquisitions of digital full-service agencies this year (7%), up from only 1% in the first half of 2017. "As marketers are struggling to find an approach to digital transformation, they will continue to look towards agencies for support in this area," said Mr. Paull.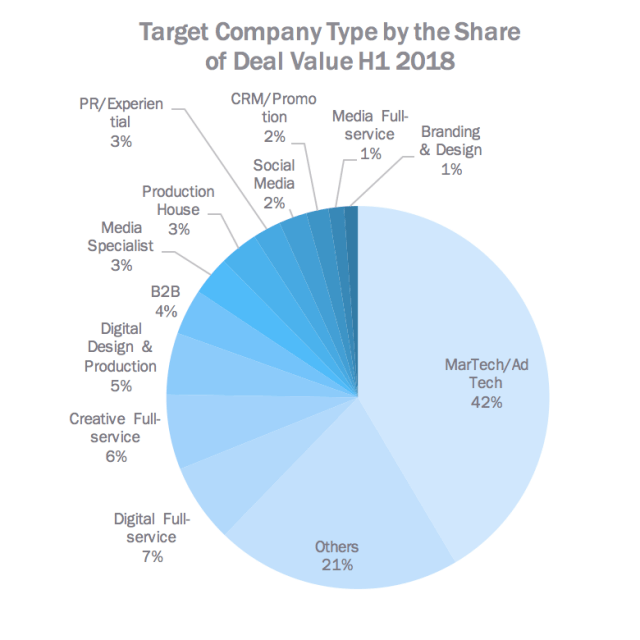 Unconventional Buyers & Consultancies
The trend of unconventional buyers entering the marketing M&A space has increased dramatically in the past year. In the first half of 2018, unconventional buyers' deal size more than doubled over 1H of last year. The biggest deal in this space came from AT&T, but other brands like Cars.com, Pandora, Oracle and WeWork made notable acquisitions as well.