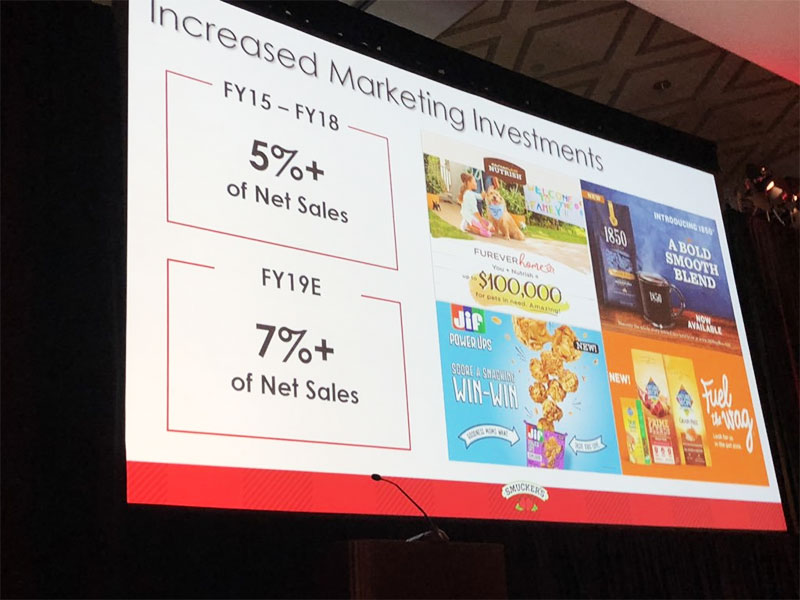 By Greg Paull, Co-founder & Principal, R3
At the annual gathering of CAGNY (the Consumer Analysts Group of New York), 800 intrepid financial analysts (…and us…) spent four days with the 'rock stars' of the consumer packaged goods (CPG) industry.
CEOs and CFOs from Coca-Cola, P&G, Unilever, L'Oreal, Nestlé, Pepsi, JNJ, Mondelēz and Colgate led the way – with challenger businesses including Newell, Smucker's, Clorox, Church & Dwight and others taking the undercard slots. In all, thirty-one companies, more than 2,000 PowerPoint slides were combined with plenty of coffee and sugar.
Armed with a useful "CAGNY Bingo" sheet, we wanted to see from a marketing perspective, who had the best stories and best growth. What we saw was a mass of businesses driving constant innovation just to achieve 1%, 2% or 3% growth.
Emmanuel Faber, Danone's CEO, showed one chart that clearly set the tone – the age of the global iconic brand is diminishing. Consumers today want 'special' and the gap between global and local continues to close. "It's never been easier and lower cost to launch a new product today" he added. Unilever's CFO Graeme Pitkethly also noted, "In the last two years in just our top six markets, we measured 6,000 new launches in the beauty category alone."
Innovation Begins at Home
Driving real innovation is the one compelling challenge in the category – without it, most of the companies this week would be in structural decline. James Quincey, the CEO of Coca-Cola showed beautifully how innovation on a 140-year-old brand in terms of packaging alone could drive a 6% sales upturn.
For JNJ, the #1 priority is a new Innovation Model and the ability to 'fail fast', something that would never have happened five years ago. The new C&C Beauty Launch was accomplished in just ten months.
Colgate also showcased a totally new approach to innovation, focusing on doing fewer, bigger things, but driving faster innovation – with the new Barbie launch in Latin America with 50 pack options showcased.
Some have now formalized venture processes, reacting to Unilever's Foundry and going beyond internal structures to make an impact. Mondelez's "Snack Futures" is a structured approach to developing new product and Go To Market ideas.
P&G also opened the kimono on their Ventures Lab, showcasing some of the new initiatives made internally and with Kickstarter. Their DS3 soap was one of the big ideas for the week.
Nothing Moves More Than Marketing
JNJ stressed that 80% of their marketing is now precision-targeted, and Unilever declared that they had 1,700 dedicated digital professionals globally across 24 dedicated hubs. Mark Smucker, the fifth-generation CEO of Smucker's also affirmed a 40% increase from 5% to 7% of sales on marketing, noting that a new single relationship with Publicis Groupe has helped them be more efficient and effective.
Not all of the companies were as effusive of the agency model as Mr Smucker. Hershey, Nestlé, Unilever, P&G and Pepsi all talked directly about taking more services in-house, extending a well-commented on-trend.
P&G's CFO, Jon Moeller talked again on his favorite topic of reducing agency fees again (something mentioned at CAGNY last year – as well as 2017, 2016, 2015 and 2014 and 2012 – they must really be getting low soon…). He also explained the new "Fixed and Flow" approach to agencies – allowing more flexibility in agency selection and more project-based work, before finally outlining a new approach to Digital, with media planning in-house and specialists globally to drive real-time, precision marketing
Vive La France
It was somewhat surprising in this mostly American room that two French companies gave the most complete presentations.
Jean Paul Agon, the charismatic CEO of L'Oreal talked in detail of record profits, record margins, record growth and a 7.2% sales increase, the highest of all the mature players in the room. L'Oreal now have 2,000 digital experts globally driving marketing innovation – "We started early in 2010 and now anyone joining L'Oreal in marketing has to pass a Digital Test first."
While so many CPG's are struggling in China, this beauty giant grew by 33% there last year (also a record). "As their economy struggles to grow, buying a beauty product is a very cheap way to improve your quality of life – much less than an Armani bag or YSL outfit" he added.
Another French leader, Emmanuel Faber of Danone, took us back to school with a science lesson on bacteria. The company owns more than 4,000 strains and has now proven their ability to take the fermenting process beyond dairy. He was also the only presenter in a week of shiny, happy people to lay out a failure – the relaunch of Activia in 2016, what they learnt from it, and how a more nuanced, multi-local approach drove massive growth last year.
Fun fact – all 100,000 employees of Danone will get shares this year – and a greater involvement in decision making of the company.
For those with the Bingo cards, "purpose" was a theme through most presentations – although as Alan Jope, CEO of Unilever put it, "It isn't purpose ahead of profits. It's purpose driving better profits."
The Future: Innovation, Consolidation, Aspiration
Innovation alone won't cut it in this sector – all of the companies reaffirmed the importance of strong marketing to drive preference. Bill Newlands, the CEO of Constellation Brands made it clear – "Marketing is THE critical factor in driving the growth of our business."
With the Kraft Heinz announcement during the conference (they did not attend), there was a certain negative buzz about 'cutting your way to growth' and the role of tricks such as Zero Based Budgeting (ZBB). Mondelēz, Nestlé, Smucker's and Unilever all extolled the virtues of their commitments to the approach, while L'Oreal proudly said "With 72% gross margin, we're doing the exact opposite of ZBB."
One thing is for sure – CPG's are going to have their lunches eaten in the future by DTC brands and other startups without driving more innovation and without some consolidation. These mature businesses need more incubators, more big thinking from external agencies and venture firms and more of a "failing fast" mindset to drive growth.
We will cross our collective fingers until the next Coachella.