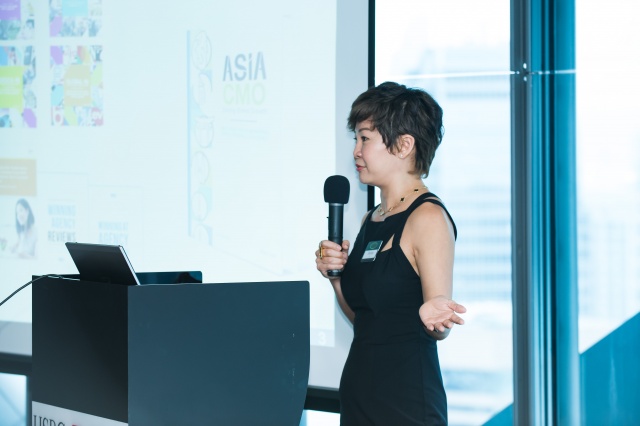 On 7th September, The Marketing Society and R3 hosted a Power Lunch in Hong Kong. The event gathered a diverse crowd of brand and agency representatives to discuss the evolving role of marketing in today's organizations. 
Shufen Goh, Co-Founder and Principal of R3, kicked off with a sharing of insights from R3's latest book – Asia CMO: Driving Brand Growth. Shufen touched on key themes such as brand loyalty amongst millennials as well as challenges associated with data and partnerships that provoked a vibrant debate amongst the guests.
These themes were further discussed by the guest panelists –  Devinder Kishore, SVP, Brand & Marketing Engagement, Schneider Electric; Peggy Roe, Chief Sales & Marketing Officer, Marriott and Shilpi Khurana, Regional Marketing Director, Ferrero.
Three key takeaways emerged from the discussion:
On Brands
Despite the shocking findings revealed in Asia CMO book that 40% of millennials wouldn't care if brands disappeared, panelists agreed that brands still have a role to play. Peggy Roe commented that even though brand stickiness and loyalty are no longer that strong, brands still stand for trust and quality. Ferrero's Marketing Director, Shilpi Khurana, added that international brands are still appreciated by consumers in Asia. However, in the West people are increasingly switching to smaller private-label brands.
To counteract this trend, established brands should be humble and candid and stay close to consumers. The 'how' of media consumption is changing much faster than the ability of brands to create content. Ferrero is therefore actively involving consumers in its marketing activities through co-creation projects.
On Partnerships 
One way to stay relevant in the future is to establish partnerships that propel brand growth. Easy to say, hard to achieve. Successful partnerships need work and although there will always be some degree of tension in client-agency relationships, it is both marketers' and agencies' responsibility to make relationships work.
Marketers could take the lead in establishing relevant agency models and orchestrating partner efforts towards achieving cutting edge marketing communications. Agencies, on the other hand, should learn to think strategically and connect the dots – currently a major reason for dissatisfaction for marketers. 
On Customer Experience
45% of marketers surveyed for Asia CMO book consider customer experience to be the most important factor to stay ahead of the competition in the next five to ten years. All panelists concurred that taking ownership of customer experience is one way to elevate the role of marketing in organizations.
Peggy Roe shared that Marriott operates multiple brands across various markets in Asia. Superb customer experience is important because it drives a unified perception of the brand across these diverse markets. Devinder Kishore commented that for Schneider Electric, the most important task is to make an invisible brand visible – and to ensure consistency for the customer across at every step of the omnichannel consumer journey.