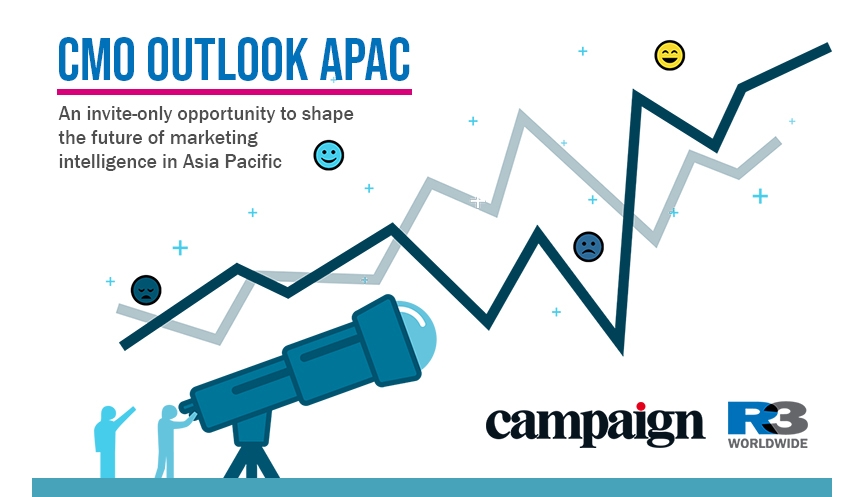 R3 and Campaign Asia-Pacific partner to launch CMO Outlook, a forecasting business intelligence network informed by senior marketing decision-makers in the region.
Each participant in the invite-only network will have the opportunity to shape the conversation about the future of marketing in Asia-Pacific through surveys, private events and closed-door conversation. Reports will be shared among members twice a year, with focus on areas like technology, media and talent.
"Through our ongoing work with CMOs, it became very clear that there was a lack of forecasting resource specific to the needs of our industry," said R3 Co-founder and Principal, Shufen Goh. "Retrospective knowledge is helpful to understand the why's and how's, but the speed of our industry demands better planning tools for what is on the horizon in 12-months."
"We can't stall change," Goh continues, "but asking the right questions and being informed is the smartest way to anticipate the future."
In addition to the twice-yearly reports, R3 will provide CMO Outlook members with white papers and reports on consumer trends and geopolitical implications for business. All network participants also receive premium Campaign Asia-Pacific membership.
"As a media platform, Campaign delivers news of what's happening now in the industry," said Atifa Silk, Brand Director at Campaign Asia-Pacific. "This helps marketers be agile and responsive. With our CMO Outlook partnership with R3, we will extend our support to the long-term with business cases, commercial business research and data insights."
The 2019 CMO Outlook cohort will receive invitations from Campaign beginning June 6, 2019 with confirmation of participation closing on June 17, 2019. We invite marketers who have not received invitations but feel that they qualify for network inclusion to contact Sarah Tan at sarah@rthree.com.