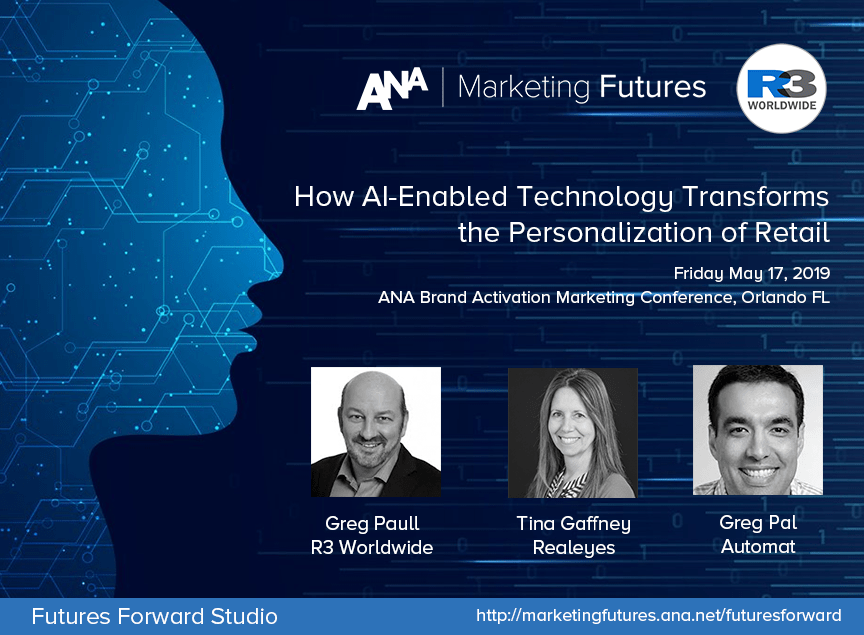 At the 2019 ANA Brand Activation Marketing Conference in Orlando, Florida, R3 and ANA Marketing Futures presented the Futures Forward Studio to help marketers be better prepared for what's now, new and next in the world of marketing technology and innovation.
The inaugural session was titled 'How AI-Enabled Technology Transforms The Personalization of Retail.' Greg Paull, Co-Founder and Principal of R3, moderated presentations from Tina Gaffney of Realeyes and Greg Pal of Automat on the use of Artificial Intelligence. Case studies from brands like Vichy Laboratories and Hotels.com were presented to demonstrate proof of concept, and educate attendees on the immediate business application of these technologies.
The ANA Brand Activation Conference showcased companies in a variety of industries, with varied budgets that strategically drive their business results via integrated brand activation disciplines. The event brought together marketers, retailers, and agencies for two-and-a-half days of inspiring and insightful sessions. Marketing industry leaders presented coordinated brand activation strategies that provided maximum impact – not only to their brand's growth but to the customers and their needs.