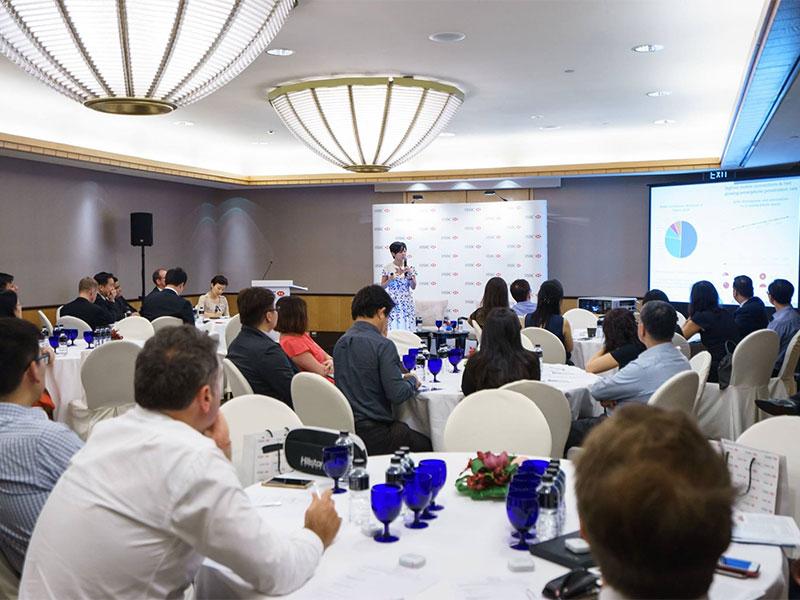 R3 Principal and Co-founder, Shufen Goh, was the keynote guest speaker at the HSBC Digital Innovation Conference on October 12th, 2016. The conference brought together senior executives from HSBC and their client-base to build relationships and exchange ideas in an interactive setting, with the attendees consisting primarily of C-suite executives from Global Fortune 500 companies in the technology, media and telecom sectors. 
The central theme of the conference was digital disruption and how banks can partner with digital technology companies in order to deliver the best customer experience in this changing landscape. As a keynote speaker, Shufen brought in an objective overview of key digital trends in APAC, shared digital transformation best practices from a consumer's perspective, and provided in-depth insights on how companies should embrace digital with "creative destruction." 
Senior representatives from HSBC and guest speakers from technology companies such as SAP, KPMG and Alipay actively engaged in panel discussions on how to transform the customer experience. The biggest takeaway from the event was the clear need to rethink and review every aspect of a company's strategy, design and operations, as well as form partnerships to create an environment to encourage innovation. With the customer experience shifting to become the top priority in companies of all sectors, each organization should challenge itself to break through traditional barriers and silos to present a single, consistent experience for all consumers.