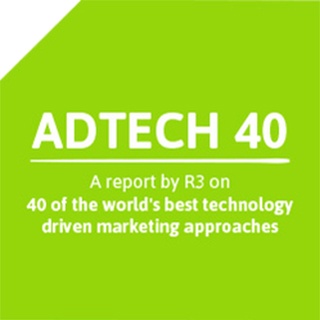 First time global study of the 40 best examples of technology in advertising
Unique analysis of Best Practice in Digital Marketing
Covering global, regional and local work from six continents
The world's best marketers and their agencies are moving quickly to integrate technology into more aspects of their marketing initiatives, a new study from the global consulting firm, R3, shows. "Within five years, the CMO will spend more on technology than the CIO — understanding the latest five new digital demands will be crucial to their role," said Greg Paull, Principal of R3. The firm reviewed hundreds of submitted cases from around the world to create a new report — AdTech 40 — a collection of the 40 best technology-driven marketing approaches from the past year.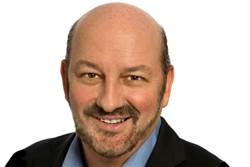 "The digital ecosystem is expanding at breakneck speeds," added Mr. Paull, "We were driven to identify the upcoming tech trends by client requests to look for best practice when integrating digital both into their own working processes, as well as into their agency relationships."
All cases were judged on four criteria in order to qualify the final 40: proven on top brands, proven on innovation, proven and recognition, and most importantly, proven on results. The final 40 highlight innovative cases from companies such as Coca-Cola, Tesla, Samsung, Unilever and others. Through this work, R3 identified five digital demands.
1. Tech Must Transcend Borders – Almost a full quarter of the case studies included in the report are global campaigns. In addition, Asia and North America each accounted for 30% of the winners. With over 60% of the world's population, coupled with skyrocketing internet and mobile penetration, it's not surprising that Asia is taking the lead when it comes to tech innovations. For example, MasterCard's "Priceless Engine" was a global initiative, driven out of Asia, generating a 16% lift in GDV.
2. Engagement is King – R3 separated the winning campaigns into four categories – Engagement, Acquisition, Tracking, and Performance — and found that 47% of the winning case studies leveraged technology to increase engagement with consumers. The leaders in this sector are creating individual brand experiences using big data. For example, Tesla showcased its new retail experience tool in the report, building more customized sales as business increased 85% in 2015.
3. Mobile First & Mobile Sustainable – By some measurements, mobile ad spending will account for nearly a quarter of total media spend this year. Brand strategy has to start with mobile; it can no longer be just a secondary channel. Almost a fifth of the winners in AdTech 40 have a mobile app component, and several of the brands' campaigns were designed for a completely mobile experience. Several of the other top trends R3 identified in the report point to the importance of mobile in tech-driven marketing — including social innovation, cross-screen, and gamification. For example, the Taco Bell mobile app received more than 4.7 million downloads and generated a 20% increase in average check.
4. The Agency Model is Shifting – In R3's previous report — Integration 40 — they highlighted the Six Degrees of Integration, and demonstrated a trend towards digital at the center. AdTech 40 supports those findings, showing that marketers are moving away AORs – it's all about collaboration. Whether it's agencies working with other agencies, tech vendors, or the marketer's own internal teams, one thing is clear: whoever has the best idea wins. A Coca-Cola entry, Lyric Coke, was led by the brand's digital agency, and supported by five others, increasing sales by 10% during the campaign period.
5. Data Drives Everything – Building an integrated, personalized campaign that makes a consumer feel that the brand is speaking directly to them is all done by leveraging data. As the Internet of Things connects more and more devices, there will be more data available to marketers than ever before. The Economist, for example, used big data and real-time marketing in a featured case to drive lifetime revenue up by $18m on their customer base.
The 40 winning case studies in the report provide a deeper look into what works when leveraging technology to improve business results. They also shed some light on how marketer and agency relationships are continuing to evolve. The cases themselves span all types of technology — from data driven targeting and social listening, to outdoor experiences and virtual reality — and all different categories. "Tech is changing the whole marketing process," said Paull. "Additionally, consumers are demanding (and rewarding) this "more involved" forms of marketing. Use tech wisely – or fall behind."
ABOUT R3
R3 is a leader in global, regional and local consulting on Best Practice in marketing effectiveness and efficiencies. We work with nine of the world's top twenty marketers including Unilever, AB InBev, MasterCard, Mercedes Benz, Johnson & Johnson, Samsung andKimberly Clark.
For more information, visit www.rthree.com, or contact Erin Singleton at [email protected] or +1 646 416 8088.
Related Services: