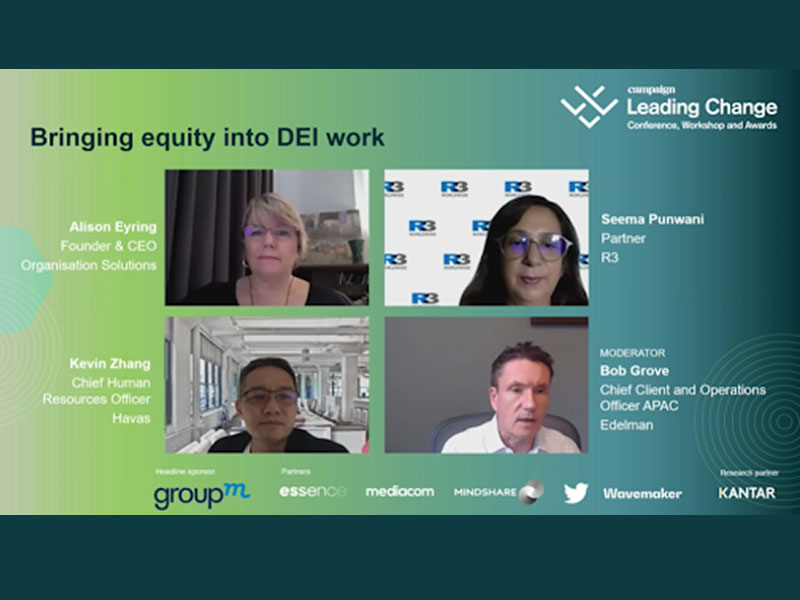 On June 8, R3's Seema Punwani participated in a panel session at Campaign Leading Change on how organizations can shape their Diversity, Equity, and Inclusion (DEI) strategies and drive sustainable transformation. Punwani shared insights on bringing equity into DEI work alongside Alison Eyring, Founder & CEO at Organisation Solutions, and Kevin Zhang, Chief Human Resources Officer APAC at Havas Group. Bob Grove, Chief Client and Operations Officer APAC at Edelman hosted the session.
During this session, Punwani focused on how organizations should change their policies to offer greater flexibility to employees as part of inclusion efforts. Representation is important, but offering continuous flexibility through a policy change will make progression easier for employees.
"If organizations don't change their employment practice, minorities will find it more difficult to reach senior leadership roles… Organizations should also be committed to tracking, on a yearly basis, the promotion of females and minorities – only then will companies be able to know that they are moving the needle." – Seema Punwani, Partner, R3
Eyring added that if organizations want to make a change with their DEI initiatives, they need people who are passionate while also giving them the authority and equipped them with the skillset they need to make positive changes. Zhang also brought up that there is a gap in middle managers driving DEI initiatives. Organizations need to put their money where their mouth is and fund the initiative and set KPIs. With this, more middle managers and staff can get involved and drive DEI forward.
Key Takeaways for Organizations
Punwani presented three key takeaways for organzations that would like to treat DEI as a contributor to business outcome.
Look at your fundamentals, your internal structure and policies, and change them if needed.
Commit to track your initiatives to see if you are moving the needle.
Talk more to your team and understand the issues they are facing.