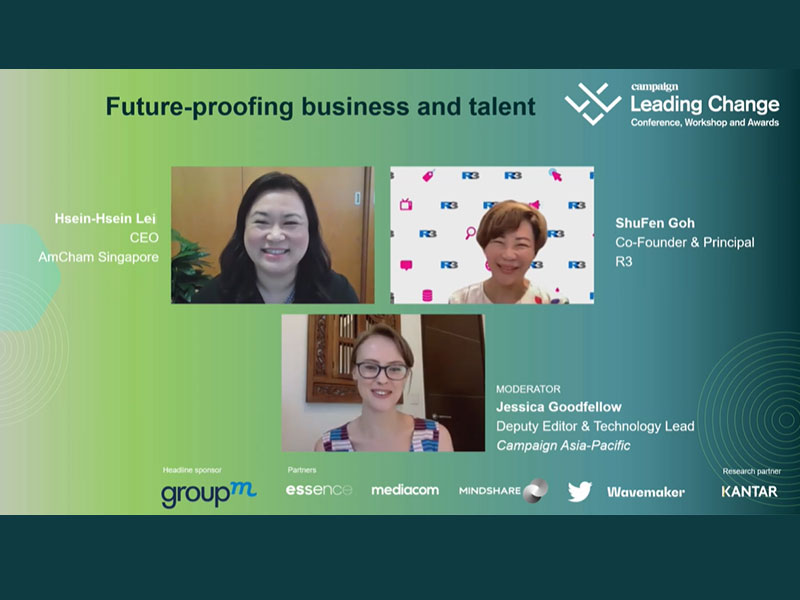 On June 9, R3 Co-founder and Principal, Shufen Goh, participated in a Campaign Leading Change panel session on how to reskill and upskill the workforce to meet the rising demands for leadership skills in technology, creativity, and digital. Goh shared insights on future-proofing business and talent alongside Hsein-Hsein Lei, CEO at American Chamber of Commerce. Jessica Goodfellow, Deputy Editor and Technology Lead at Campaign Asia-Pacific hosted the session.
Digital Transformation's Biggest Challenge Is Around Soft Skills, Not Technology
Companies are talking about investing in talent for the future, and the technology and tools needed to improve the work experience. However, the ability to digitally transform should not be solely focused on technology, but also on peoples' ability to improve processes, rethink their products and platforms, and change the way they work. Companies need a shift in mindset in how they work, the processes, and the different skill sets that the teams need to be trained on.
How Can Companies Attract Digital Talent?
In this session, Goh focused on the barriers that companies face when future-proofing their business. In the early stages of digital transformation, there is an investment in technology, but companies often forget about the soft skills and the change in mindset that needs to happen. They also need to find new ways of working and retraining existing talent.
"For agencies, their biggest barrier is getting skilled talent… One of the challenges is, if you are not Google or Facebook, you are going to suffer from not being on the radar. There needs to be a rethink about how you promote yourself, and looking at opportunities that are more apprenticeship-driven, for example." – Shufen Goh, Co-founder & Principal, R3
Lei, herself science-trained, said she believes that employers should be willing to risk hiring people from a diversity of backgrounds and ways of thinking. "All companies need to focus on that employer branding piece, and as part of that branding, it is important to offer people a decent salary," said Lee. "But also this idea of what is your life going to be about when you work in this industry? Young people are very mission and purpose-driven. How are you going to help them explore and innovate?"
Key Takeaways for Companies
Goh presented three key takeaways for companies that would like to create a culture that encourages digital talent.
Softer skills and charisma are required for people to follow leaders – leaders are not made with titles.
Career outreach to recruit collectively – trained engineers will be a good fit for the marketing industry.
Prioritise mental health awareness – we thrive on people working alongside with each other.