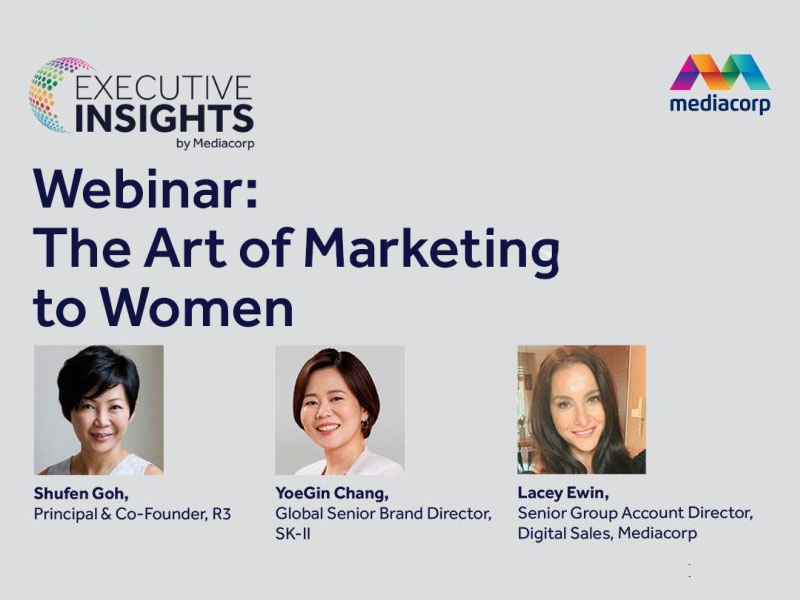 On May 27, R3 Co-founder and Principal, Shufen Goh, participated in Singapore Mediacorp's Executive Insights webinar on the importance of the women segment and how to create meaningful engagement by addressing the challenges women face through content. Goh shared insights on the art of marketing to women alongside YoeGin Chang, Global Senior Brand Director at SK-II. Lacey Ewin, Senior Group Account Director, Digital Sales, at Mediacorp hosted the session.
The Women Segment Is an Under-Tapped Opportunity for Brands
Women will own 75% of discretionary spending by 2028, making them the world's greatest influencers. The current generation of women are much more educated, and brands need to realise that today's tech-savvy consumers will tune out if the brand and experience are not aligned with their needs. Authenticity is also important as consumers can quickly discern what is authentic or not. Brands should connect with consumers on a one-to-one human level as a human brand.
How Can Brands Market Effectively to This Important Segment?
In this session, Goh focused on how brands can better communicate the change in women's roles and responsibilities. Women have challenged boundaries and defied society's stereotypes, but not enough stories are being told about their skills, aspirations, and achievements. "There needs to be a long-term commitment to the women segment, and not a one-off campaign," said Goh. "Brands need to challenge their own marketing stereotypes, put themselves in the shoes of the consumers' decision-making process, and truly understand the customer journey."
SK-II began their purpose-led marketing journey 7 years ago with their campaign #ChangeDestiny. "Brands should share their voice to drive the conversation the right way, and to give a platform for the dialogues to happen," said Chang. "We recently launched SK-II Studio, the brand's first film studio that is dedicated to tackle social pressures impacting women today, and we will be doing this through the power of film and storytelling."
Key Takeaways for Brands
Goh presented three key takeaways for brands to work toward better representation of women.
Give women the opportunity to see themselves as customers
Consider the ambitions and aspirations of the next generation
Encourage agency partners to increase their diversity quotient
Watch a recording of the full webinar here.