Campaigns from Samsung and Xiaomi boosted their online awareness in the third quarter of 2014, according to new research which also highlighted how brand performance differed across digital media.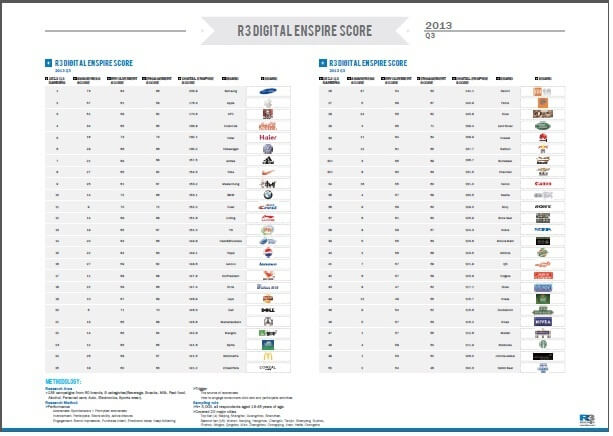 In the latest wave of research which consultancy R3 carries out every three months in China's top twenty cities asking 3,000 respondents aged 15-45 a range of questions on brands, campaigns and media online, Samsung topped the awareness ratings with a score of 25.5%.
Bella Teng, senior researcher at R3, pointed to Samsung's use of one of the stars of the popular TV talent show The Voice of China, which had generated "massive awareness and interest".
"It's clear that their [Samsung's] digital video, Weibo and WeChat social work is leading the way right now" she added.
Local brand Xiaomi was the fastest mover during this this wave of research, as it awareness rating hit 12.9%. This was based on a new campaign "Xiaomi is so fast", which encouraged users to spread the message virally in order to gain access to lucky draws for phones.
"This simple idea caught on, as well as providing a simple message of end user experience" noted Teng.
The study also threw up some major differences in how brands were performing in the various digital media. Apple, for example, proved to be weakest in recall on online video, but indexed most strongly on apps. Nike, meantime, over-indexed on WeChat.
"This has proved to be the most valuable and independent way to measure the impact of social media campaigns – Nike's approach to Weixin [WeChat] is a lot more inclusive and engaging than others in China right now" Teng observed.
R3 also asked people to name their three most consumed media sources and while TV continued to be the most important for the older generation, it did not appear at all in the top three choices for those under 30.
"It's ironic that TV still takes the lion's share of media budgets – even for youth oriented brands – and yet China's youth have clearly moved on in the last two years" said Teng.
Data sourced from R3; additional content by Warc staff
http://www.warc.com/LatestNews/News/EmailNews.news?ID=32458&Origin=WARCNewsEmail&utm_source=WarcNews&utm_medium=email&utm_campaign=WarcNews20140116