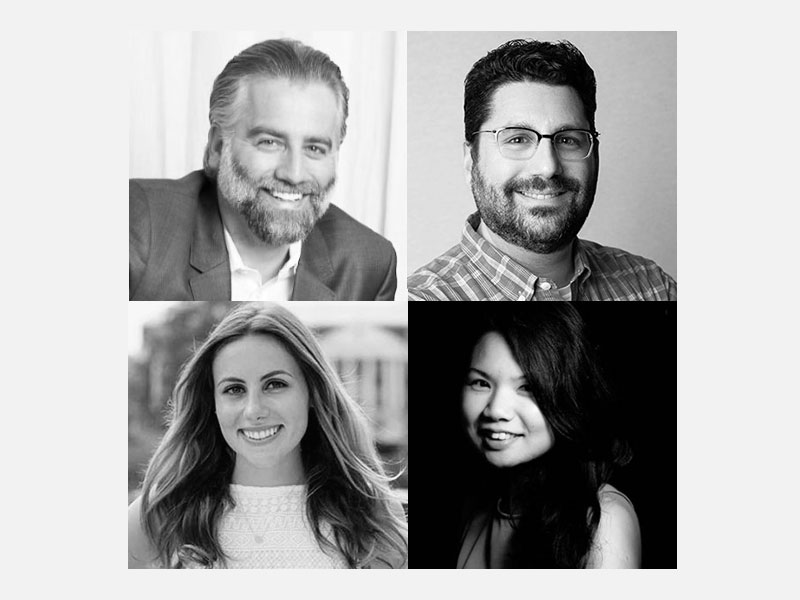 R3 builds its digital and media capability in the US with four new consultant hires. Jason Velliquette, Craig Stein, Alexandra Henriques, and Hailey Tay join the independent marketing consultancy's New York office, bringing expertise in digital consumer ecosystems, digital media strategy and planning, and media analysis.
"The pandemic has brought a renewed and urgent focus on digital capability and efficient spend on media. Building R3's digital and media team enables us to respond to the strategic and tactical needs of marketers across digital, e-commerce, and media," said Greg Paull, Co-founder and Principal of R3. "With Jason, Craig, Ali, and Hailey on the team, we're able to deliver truly integrated knowledge to our clients."
Jason Velliquette (top left) joins R3 as EVP, Digital. His role includes expanding the consultancy's analysis aperture and helping clients design transformative digital consumer ecosystems. Prior to this role, Jason developed digital experiences for Paramount Pictures, Abbive, Alcon, and Gerber. He was most recently at Publicis Groupe, where he oversaw Procter & Gamble's global digital marketing ecosystem. Jason brings more than 16 years' experience in emerging channel strategies and new performance marketing models.
Craig Stein (top right) is Senior Consultant at R3 with over 18 years leading brand, performance, and full-funnel campaigns across digital and traditional media channels. Craig's expertise has seen him work in media strategy and planning across brands that include Google, T-Mobile, American Express, Unilever, Airbnb, Johnson & Johnson, and Vanguard.
Alexandra (Ali) Henriques (bottom left) is Senior Analyst at R3 in New York. Previously at Omnicom Media Group and Universal McCann, Ali was part of the integrated investment team for Estée Lauder Companies, working with more than 25 beauty brands.
Hailey Tay (bottom right) joins R3 as Consultant. She brings experience in strategic media planning and developing tactical digital initiatives through in-depth research and analysis of customer journeys and digital ecosystems. Prior to R3, Hailey worked at PwC, Vertic, and GroupM.